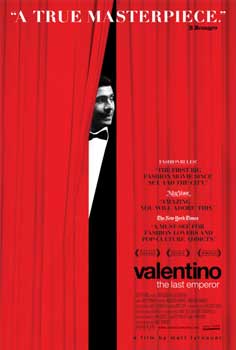 Two great movies for you today, gems received via our Netflix queue.  Oh heavens, please don't you ever go away Netflix.  What on earth would these two Portland film addicts do without you?
Let's start with fashion and the man who works magic with red, Valentino Garavani.  Forty-five years of gorgeous gowns with equally gorgeous women donning them.    While I hardly have enough moolah to be able to purchase a couture gown such as these (nor an occasion to which I'd wear it), it was a sheer delight to observe a bit of the process that brings them to life.  A dream in a man's head, a sketch, and a klatch of women with talents I can only aspire to.  No sewing machines, no fancy equipment, just divine talent with a needle and thread.
Follow bits of Valentino's life since launching his career in the 1960s: the bankruptcy, the huge success, the sale of his company in the 90s, the dresses (oh the dresses!), the pugs, the houses, and one very sweet, loving, and patient man with my favorite name in the Italian language, Giancarlo, Valentino's partner for more than fifty years.
It is a love story about style, fabric, and men who share the same exquisite passion to make women feel a bit more beautiful and, of course, glamorous.  There are lots of surprises, and I shed a few tears, inspired by the drive and success of these lively and talented Italians.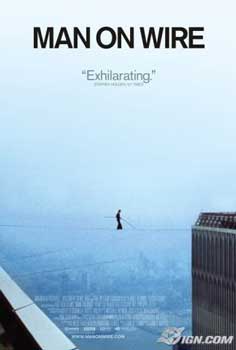 And now for a little something from Italy's neighbor, France.  It is quite a different story, yet it rings of the same truths, that passion, dedication, and perseverance bring sublime rewards.
It's a story that begins in a dimly lit dentist's waiting room, when a young man with an aching tooth spies, in a magazine, an advertisement for the yet to be built Twin Towers.  A tight rope walker, he decides, then and there, that he will walk between the towers, drawing, rather symbolically, a crisp line between the buildings.  Thus, he sets forth on a plan that will take him thousands of miles and hundreds of feet above New York city.
Though the fact that he walks the tightrope is a foregone conclusion, it is a delightful journey to follow the route to his achievement.  There's footage of the preparations, including his victories over Notre Dame and the Sydney Harbor Bridge.  As well, we meet his accomplices, friends and protectors, eager and willing to pay the high price to accomplish one man's dream.   Another joy to watch such determination and dedication to a particular and quite electrifying goal.