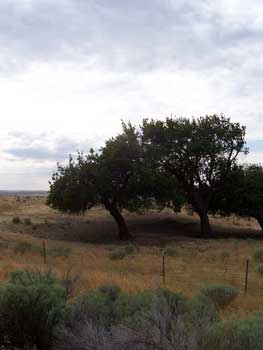 I've been listening to this for about a week now, getting into a steady groove of cool breezes, sweaters, socks, and soup.  Sounds like fall, indeed.
"J'ai Deux Amours" – Madeleine Payroux – I sing along and feel dreamy-fancy.
"Little Star" – Madonna
"Tear in Your Hand" – Tori Amos
"Duke's Place" – Louis Armstrong and Duke Ellington – a toe-tappin' happy song.
"Typical Situation" – Dave Matthews Band – a rather atypical band for me with a song I quite like.
"The Man Who Loved Beer" – David Byrne – like riding waves.
"Honkey Tonkin'" – Hank Williams – another happy toe-tapper.
"I Do Not Want What I Haven't Got" – Sinead O'Connor – more dreamy-fancy singing.
"(Night time is) The Right Time" – Ray Charles – ooh la la, did Ray know how to do it!
"Can't You Hear Me Knockin'" – The Rolling Stones – the jam at the end makes me weep.
"Everybody's Jumpin'" – Dave Brubek Quartet
"Fire and Rain" – James Taylor – more weeping for friends I never thought I'd lose.
"Down to the Wire" – Neil Young
"Sway" – Dean Martin – his voice makes me feel like I'm draped in velvet, a theme for me, as of late.
"Suite Bergamesque I: Prelude Moderato" – Debussy, played by Gieseking
"Please Call Me, Baby" – Tom Waites
"October" – U2
"Mule Skinner Blues (Blue Yodel #8)" – Dolly Parton – oh, the power of Dolly: I cry, I dance, I laugh.
"Which Will" – Nick Drake
"Bodysnatchers" – Radiohead – always dancing in the end.  That's me.