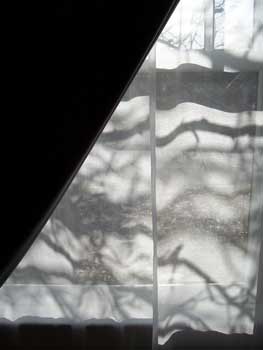 There's been a lot of dying happening in the world lately, earth quake victims in Haiti, avalanche victims in Afghanistan, and on a more personal level, a dear, sweet neighbor and a kindly mother-in-law (my cousin Allie's).  When someone dies, particularly someone I have known personally, it always creates a flood of memories of  other endings, not necessarily passings into the great hereafter, but of broken friendships and hearts, dreams and hopes dashed, too.
In the past, I would suffer these rushes of memory like one would an awful interloper, with little degree of kindness or patience.  I do not want to feel melancholy, for it is not the desired state, happiness, always happiness!  However, now, I have come to a new place about grief and memory, or any feeling really.  It arises naturally and will pass, too.  There is no need to fret and even a possibility of enjoyment.
Like thinking of the first person I remember dying, my Great Grandpa Briggs.  He was a silent one, so much so that I scarcely have a memory of him speaking, but I do remember his mischievous smile, his cigar smoking, and the fact that he walked me to the Western Motor Lodge near his home to buy me candy.  Or my Great Aunt Mary, there's so much I remember about her: a kind voice, boundless generosity, the deepest faith I have ever known, mad crochet skills, the papery softness of her hands, and her beautiful penmanship.  Though I feel a little misty thinking about the two of them, these memories are small gifts of their continued presence in my life.
With all of this in mind, I crafted a playlist, one perfectly suited for honoring my time with grief, like curiously watching a stream from on high, the ebb, flow, and rush.  It is long, but not overly so, with a bit of sunshine at the end.
Nico – "These Days"
Neil Young – "The Old Laughing Lady"
My Morning Jacket – "Knot Comes Loose"
U2 – "Scarlet"
Sting – "Fragile"
Sinead O'Connor – "I am Stretched on Your Grave"
The Rolling Stones – "As Tears Go By"
Philip Aaberg – "Cinema Paradiso"
Peter Gabriel – "I Grieve"
Nina Simone – "I Loves You, Porgy"
Willie Nelson – "Blue Eyes Crying in the Rain"
Feist – "The Limit to Your Love"
Eurythmics – "This City Never Sleeps"
Elvis – "Love Me Tender"
Elton John – "Goodbye"
The Dream Academy – "Life in a Northern Town"
Crosby, Stills, and Nash – "Helplessly Hoping"
The Counting Crows – "Sullivan Street"
Coldplay – "Sparks"
Bombay Dub Orchestra – "Sonata"
Bob Dylan – "Tomorrow is a Long Time"
Bjork – "Come to Me"
Bill Withers – "Ain't No Sunshine"
The Beatles – "Blackbird"
Amy Winehouse – "Love is a Losing Game"
Tom Waits – "San Diego Serenade"
Tori Amos – "China"
Genesis – "It's Gonna Get Better"
Shawn Colvin – "Ricochet in Time"
The Talking Heads – "This Must Be the Place"
The Who – "Love Reign O'er Me"