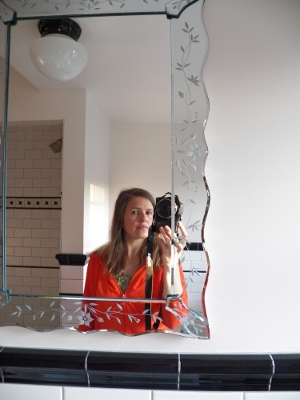 Will ya looky there?  I can finally see my reflection in the bathroom.  Huzzah! No more dashing for the best light.  Many thanks the hubster, my worker extraordinaire, who did a fine job hanging said mirror and painting this weekend.  We edge closer and closer to a finished bathroom, my friends.  One fine day!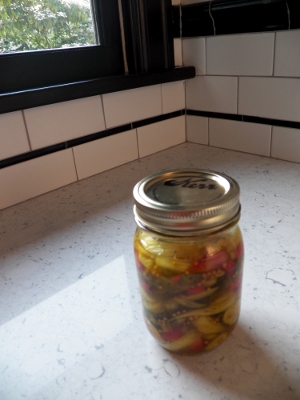 While he painted (the black window – his work!), I canned.  Eight pints garlic dills, six pints spicy dills, seven pints bread-and-butter, two pints pickle relish, four half-pints Hatch chiles, and two quarter-pints jalapeños.  Seeing the jars lined up in the cupboard is highly satisfying.  Being burned by hot vinegar solution is highly painful.  My thumb will recover, however, and I will be ever more careful.
We also spent a lovely day with the Twists, enjoying excellent company, the serenity of country living, grilled steaks, fine whiskey, home grown blueberries, a sky full of stars, and a visit from an owl!  Its profile was reminiscent of a cat atop a tree, and a big one, too.  Very cool.
Here's hoping you had a lovely weekend and are keeping safe amid all the fires and storms.  Be well!
Comments are now closed.