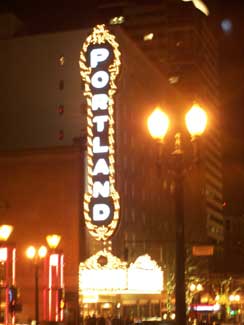 If you are one of my Facebook friends (I'm everywhere!), then you know that I went to see Itzhak Perlman with the Oregon Symphony this past Sunday.  Above are the slightly blurred lights of the marquee at the Schnitzer, and the photo below is of the lovely interior.  Man was I excited about this, having bought the tickets ages ago.  The hubster and I got dolled up and everything.  Then came the cheat, Mr. Perlman played beautifully for exactly sixteen minutes.  Sixteen.  After that, he sat in the conductor's chair and led the symphony.  Now I don't care too much for whining, but as the sweet lady in the seat ahead of me said (and she's been going for seventy years), "I paid to hear him play, not conduct." Amen to that!
I wish I didn't feel this way because the music was quite good and the rest of the players very talented in their own right, but, honestly, I'd rather cozy up on the sofa and listen to my favorite Schubert CD set, which I'll tell you about in just a minute.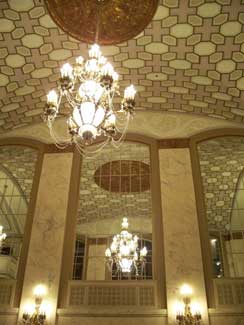 However, now is about redemption, and that is thanks to the bar at Higgins, my very favorite in town.  After the symphony disappointment, we walked rather swiftly up the Park Blocks, hoping the place wouldn't be packed.  Thankfully, we were quicker than the rest of the bunch, nabbing the last booth.  I ordered a Maker's Ginger and felt much better, not that the experience drove me to drink.  I'm not that kind of person, but when in Rome or a good bar, I do enjoy a cocktail.
Then, as is always the case, we enjoyed impeccable service and some pretty stellar food: smoked Northwest seafood (sturgeon, black cod, and salmon), a delicious salad, house made pickles, and a key lime tart with a hot pepper marmalade (the perfect balance to the sweet filling).  I savored every last bite!  Thank you Higgins for making our okay night at the symphony a super night on the town!
Now for the Spotlight I promised.  It is Friday, after all.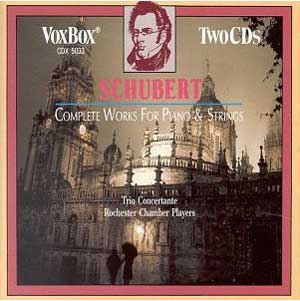 I am a girl who likes all kinds of music, good music that is.  Jazz, rock, funk, ska, rap, punk, country, classical, opera – if it is done well, I am all for it!  So it should come as no surprise that today's spotlight is on a classical composer, the always delightful Franz Schubert.  He is one of those great prolific writers – composing over 1000 works in his short thirty-one years on this earth (1797-1828).  I get a little weepy thinking that what I am listening to is nearly 200 years old.  That's something.
As I am a person who much prefers cheeriness over gloom, the Complete Works for Piano and Strings of Franz Schubert fits me like a glove.  Robert Schumann famously said of Schubert's Piano Trio in B-flat, Opus 99: "One glance and the troubles of our human existence disappear and all the world is fresh and bright again."
I could not agree more.  This is the perfect music for a sunny day or one where the clouds make you wish for it.  Additionally, the total playing time for both discs is more than two hours and twenty minutes.  You can easily while away an afternoon or evening, happily dancing about.  Give it a try; I have on more than one occasion and am much better for it.
Comments are now closed.