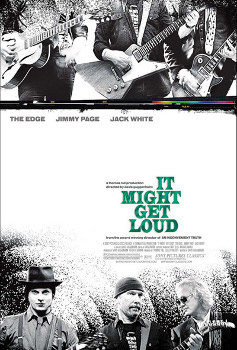 As someone who nearly always has a song in my head (and in my heart, for that matter), it should come as no surprise that I thoroughly enjoyed this film.  It brings together, for the first time, three rather iconic guitar players (an understatement, to be sure) to play together, discuss their craft, or as Jack White says, "To trick them into sharing what they know."
The result is a marvelous glimpse into the lives and creative processes of three very skilled musicians.  I loved learning about them as people (of course) and their vastly different ways to approaching the guitar.  Jack is very interested in the raw and bare bones.  The Edge is a tinkerer, with myriad gadgets to make myriad and often surprising variations in sound.  Jimmy, I'd say is the most straight ahead (if that's the proper term).  What can this guitar do?
There's also some great history and footage of each in earlier years and previous incarnations and hair cuts.  I found it all rather fascinating, and pretty touching, too.  Each has such reverence for music and sound.   Then there is the story of how each came to play.  Serendipity – a random poster on a school wall, a guitar left behind, another bartered for the use of a pick up truck.  It really makes me wonder if there are no coincidences in life.  Pretty darn cool!
Comments are now closed.