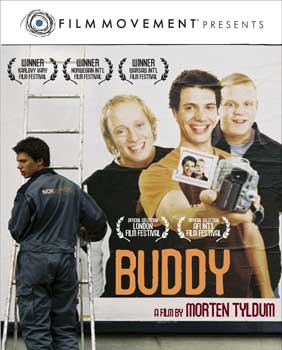 I've got two terrific titles for you today, and a little alliteration, which is always fun.  Both are Norwegian and awfully good.
Buddy follows Kristoffer, a young and carefree billboard hanger who chronicles his everyday life via film.  Nothing is kept from the camera – laughter, the heartache of a recent breakup, and crazy behavior receive equal time.  When he and his friend/roommate Geir decide to jump from a third story window into a dumpster at a local news station, the pair are nearly caught, and Kristoffer loses some video tape in the process.  The station actually likes what they see, forgive his and Geir's trespassing, and offer them a weekly spot on a popular show. They and their third roommate Stig (who hasn't left their apartment complex for two years) become local celebrities.  The future looks bright for rising star Kristoffer, but problems ensue when his increasing popularity causes his friends and his relationships with them to suffer.  It's a great story about true friendship – what it really means to be a Buddy.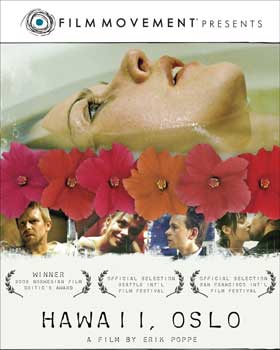 Hawaii, Oslo follows the paths of several strangers on the hottest day of the year.  Frode and Milla are overcome with grief that their newborn baby might die.  Two young boys search for their mother after the loss of their dad.  Institutionalized Leon has a date made ten years earlier to meet his childhood sweetheart Asa.   Leon's brother, Trygve has a weekend leave from prison to visit him on his birthday.  At the center, touching all of their lives, is Vidar, a nurse who can see the future in his sleep, or can he?  It's a great story about the power of dreams and finding what is most meaningful in life.
Tags: Movies
Comments are now closed.