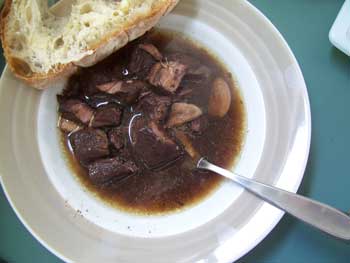 I just finished reading the book Heat by Bill Buford.  It chronicles the time he spent learning everything about cooking from Mario Batali's kitchen at Babbo to learning the art of pasta making and butchering (more than that – an appreciation for quality meat) in Italy.  It is a pretty good, and not surprisingly, rather hedonistic read.  These people don't just make food, they eat it in mass quantities and wash it down with plenty of wine!  Though there aren't any actual recipes included, there are descriptions of them.  The following is my best approximation of one.  Five ingredients, phenomenal flavor.
You may also be pausing a moment, thinking stew?  Really?  In June?  Well, non-Portlanders, the weather has been wet, very wet, even for us, and something that simmers in the oven all day is really not out of line but quite appropriate.
Peposo
1 1/2 pounds stew meat – mine was diced, but you could easily buy one shank and shred it at the end.
1/2 bottle Chianti
1 teaspoon salt
1 tablespoon freshly ground black pepper – or more, if you like
3 cloves garlic, peeled and sliced
Combine ingredients in a covered oven proof pot.  Place in 400 degree oven for 15 minutes.  Reduce the temperature to 200 and continue cooking for another 10-12 hours.  The final product will be melt in your mouth tender and ever so yummy.
Serve with crusty white bread, generously spread with butter, a glass of  the remaining bit of wine, and the company of a good friend.
Enjoy!
Tags: Books, Cooking and Baking, Recipes
Comments are now closed.