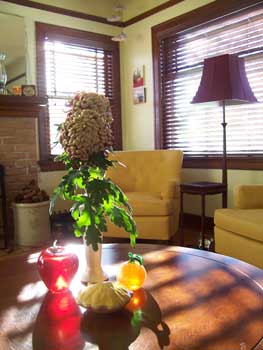 Great Tuesday greetings blog friends!  I have a killer headache from some nasty head cold I can't seem to shake.  I feel well for a couple of days, and then it sneaks in through the back door, and I feel terrible for another day or two.   So much for the super-hero immunity I thought I had.  Boo.
Anyhoo, I can't think very clearly, so you get some random thoughts about me.
1.  I cry while watching award shows.  So much sincerity and the love of telling and sharing stories, for aren't we all a collection of words, experiences, and emotions?
2.  I love peanut butter.  Have I told you this before?  I can't remember.  With jelly or chocolate, in a spicy satay, on a pancake, sprinkled with smoky salt, or slathered on a rye crisp.
3.  I believe in the power of architecture: wood, steel, glass, concrete, and LOVE.
4.  I love ruffles, pearls, velvet, and brooches – all the trappings of a woman with a girlish heart.
5.  I love smoked fish – sardines, salmon, trout – best when purchased in early morning, at a shack by the sea,  dearest friend at my side, the scent of the sea and warm smoky fish filling the air.  A slice of heaven, for sure.
Comments are now closed.