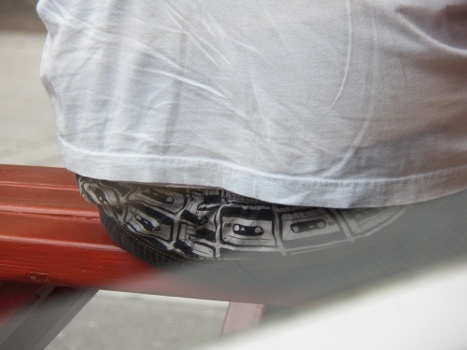 I do not know to whom these boxer shorts belong, save some faceless young man with no fear of exposing his drawers. It may be slightly redundant to say that I quite like them, having taken a photo on the sly and all, neat cassette tapes and fond memories of days before digital. The beautiful garbage made after being jettisoned from a car window, brown plastic fluttering and alive in the slightest breeze.
Yesterday was a weird day, part shitty crapper-doodle, and thanks to friends near and far, part best of the best. Today is better, though cold, cold, cold. I am yearning for an escape (back here!), to lie in warmth with bright light shining in my eyes, but since there is no sun to be had for miles upon miles, and my bank account is not bottomless, I have, a la Mr. Snazzy Boxer Shorts, made a mix-tape, hoping it warms me from the inside. It's dreamy-rocky-hip-hoppy and as golden as summer skin.
"Tequila Sunrise" – The Eagles
"Someday Some Morning Sometime" – Billy Bragg & Wilco
"Expecting to Fly" – Neil Young
"Going to California" – Led Zeppelin
"Sea Side" – Devendra Banhart
"Warrior's Ring" – Shiva Rea Yoga Trance Dance CD, to which I lost the sleeve.
"I Know You Got Soul" – Eric B. & Rakim
"The Idiot Kings" – Soul Coughing
"Would?" – Alice in Chains
"The Golden Hour" – Marisa Anderson
"The First Taste" – Fiona Apple
"Moonlight Drive" –  The Doors
"Half-Light" – Lanterna
"The Eclipse" – Fionnuala Ni Chiosain