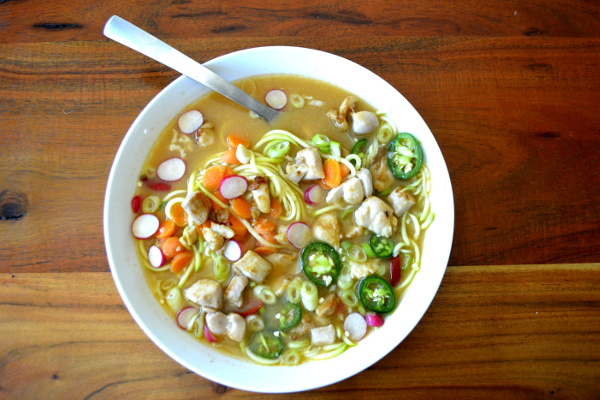 Good Wednesday to you, dear reader! How about the zoodle ramen above? It was pretty and damn tasty. The jalapeno was one of the hottest we'd come across in quite some time; neither Greg or I could eat the very few slices in our bowl. Yikes!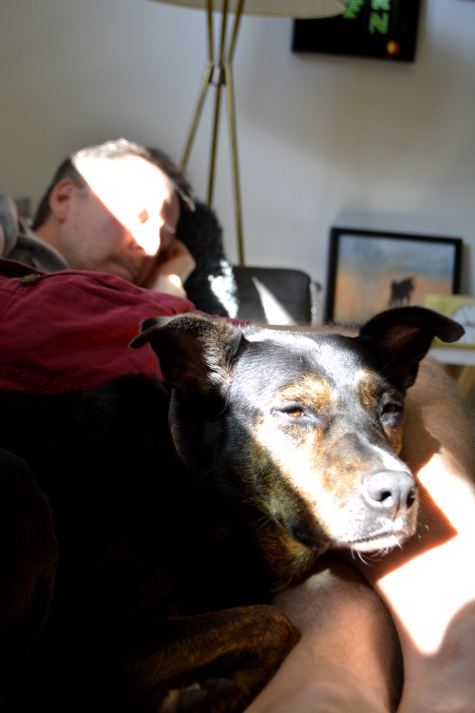 Time for a pack nap. Sooo cute!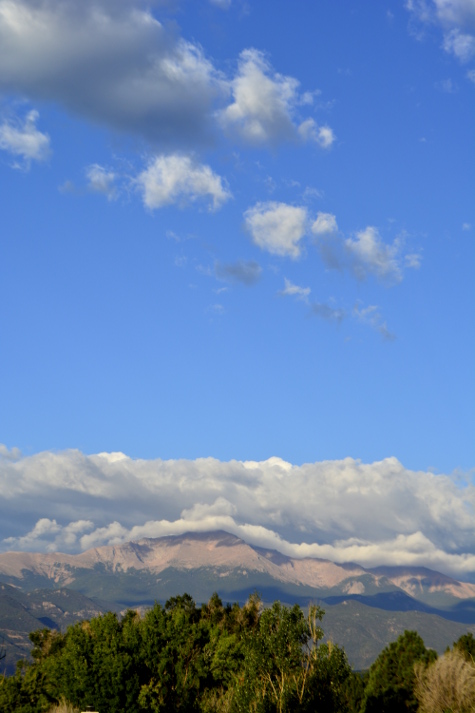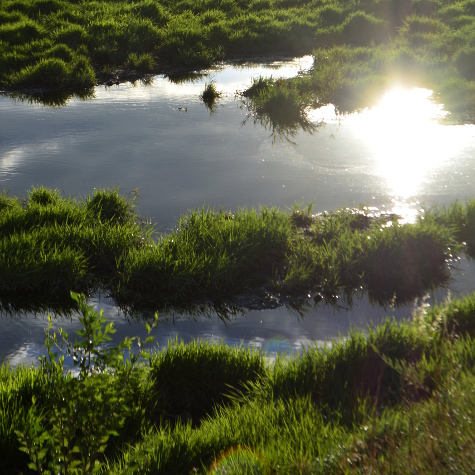 Still beautiful in our neck of the woods…
One of my first memories as a child is the sound of the percolator at my grandparents house and the smell of coffee wafting to the guest room. I'd hop out of bed and pad down the hall to the thrill of Grandpa's whistling. There in the kitchen, he'd be moving to an age-old dance, to and fro, to and fro, in slippers, old school jammies, and a robe.
From a very young age, I'd get to have a cup – a very pretty teacup, white painted with delicate pink roses. He'd fill it three-quarters with cream, add a tiny spoon of sugar, and top it off with coffee. Then we'd head wordlessly to the patio, where I'd snuggle next to him while he read the paper, puffed his pipe, and, of course, sipped his adult version, minus the sugar.
When Greg and I started dating, he did not like coffee. At our first outing to Paris on the Platte, as I knew he had always been a chocolate person, I convinced him to try a mocha – chocolate and a tower of whipped cream just the right combination to set him on the path to coffee nirvana. It worked! Before long, the pair of us were grabbing coffees at the the businesses popping up everywhere. Mochas, cappuccinos, black, with cream!
It should come as no surprise, on the occasion of our 50th birthdays, we decided to splurge on an espresso machine! After nearly three months on back order, it arrived, and we've been enjoying learning the ins and outs for the past few days. The coffee is delicious, amazingly so, and takes me right back to my very magical first espresso on my 16th birthday and all the other heady coffee house days since.
Our next project is to master latte art! Cheers to that…