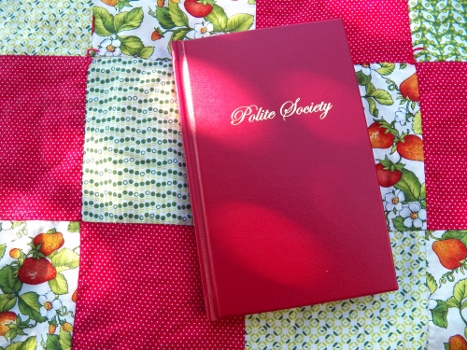 Good morning, gentle readers!
It is with great excitement and pride that I offer to you, for the very first time, my novel,
Polite Society:
In a small Oregon town, the widowed Sharon connects with her long-dead husband via secret acts of sabotage, of the variety that are meant for good, not ill. In this same town, Serena, a girl of ten, happily lives with her grandmother, her parents on the fringe of her life, giving money, books, and little else. Out of the blue, Bob Barker of The Price is Right fame begins to visit Serena in her dreams, providing glimpses of the future and the past, and uniting her with Sharon the saboteur. The pair forge an unusual friendship, and everyone's eyes are opened to the truth they already know and a larger world, one filled with daring and a little danger, kindness and cruelty, and a rather dashing assortment of vintage automobiles.
It's a little story that contains my heart and soul.
It's a funny thing, writing a novel. It is my essence, but it isn't me. I have lived it: driven, walked, and pedaled the roads. I've heard the music and felt the joy and pain. I am every character, yet I don't know them fully, don't know exactly what motivates them, why they are unerringly kind and goofy or cruel and distant, despite my silent pleas. I remember reading something similar in an interview, years ago, before I ever flirted with the notion, before I met a writer at a party and was gobsmacked by his insistence that writing was what I ought to be doing, not what I was.
How do you not know what is going to happen next? Your hands are moving, whether by pen or keyboard. It's not magic. It's you and your creation. That is what I didn't know. That there is a certain alchemy and, perhaps, the hand of God, Buddha, Krishna? Things happen. Marvelous. Unexpected. Dazzling. Sad. I didn't see them coming, but there they were, sparkling jewels before my eyes, and I worked with mad fury to capture them with the clarity in which they first appeared, to pay my proper respects to that flood. And I believe I did. I hope you agree.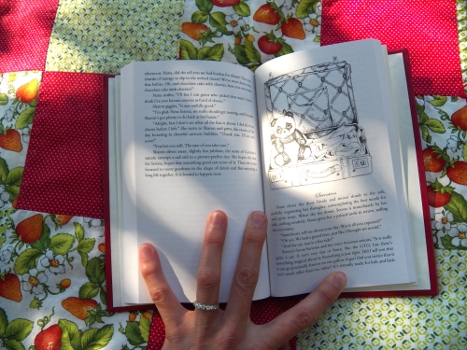 Some words on books and publishing:
When you press that "Buy Now" button and see the price of the book, $32.00, know that I am not trying to make a king's ransom from your kindness. If you've been here awhile, you know that's just not my style. The truth is, books are expensive, especially when they are made in small quantities, and with the detail and care I feel my story deserves (a shout out to Smith Printing for their awesome work). I wanted something I could proudly offer to you, beautifully bound and embossed with fine paper that honors both the words and images. My cost is $20 per copy. It is my hope that I can sell enough to pay off my investment, and my darlin' Maren for her drawings. The rest is for fees, envelopes, and shipping. No lining of pockets, but that is to come, right? An award-winning best seller! Huzzah!
A million thanks to all who have helped, encouraged, and loved me along the way.
May you lie in the shade, on your favorite quilt, and enjoy…
***
UPDATED FINE PRINT:
This is a limited-edition run, so, if you would like a copy, and I sincerely hope you do, you have until the books are gone to make it so.
My order is in!
It will be shipped to me, and out to you as fast as I can wrap and post them, which could be as long as six weeks from today, unfortunately, so please be patient. Each copy will be hand numbered and signed (with the name(s) you include in the inscription box below), with more love and gratitude than I can properly express.
I'm afraid I can only ship within the United States, as the cost is just too unpredictable internationally. Here's hoping the forthcoming Kindle Edition (next week, I hope!) will work for those who are farther afield.
Thank you.