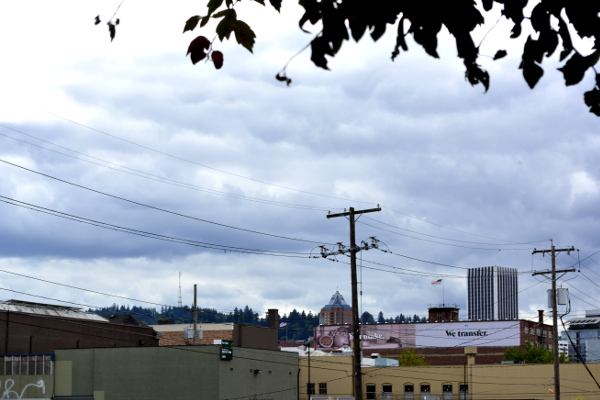 My visit to Portland. I never thought I would return – a twofold fear of the BIG one and the notion of visiting a city I would no longer know. A city that is no longer mine.
But I did it, without a moment's hesitation. For Solveig, my daughter from another mother and her sweet kids. The family not born but built with infinite love.
And I kept crying. At the Eastern Oregon wrinkle of rivers, I cried. At Mount Hood towering beautifully over the forest, as it has for eons, beacon of the eastern skyline, I cried. Just about everywhere. Walking, eating, driving – snaking up and up the magical 20th-21st southeast to northeast ribbon, crawling past Alameda, Elliot Smith singing along. And me lamenting my latent appreciation. Better late than never.
Why the tears? Why so many? I never experienced such overwhelm when returning to Arvada, home of my youth. I realized that is precisely it. Portland is the birthplace of my adulthood, our FIRST house. Place where I learned to plant, to love plunging my hands in soil to witness the miracle of shoots turning to leaves, to plants, to boisterous blossoms. Even trees!
It is the place where my sense of self turned from liquid to solid, or at least the appearance of it, a slow moving slab of glittering glass.
Where I decided on friends, realizing I am worth kindness, not snark, open hands and hearts, worth goodness and the very best in people. Honesty and accountability. LOVE.
Where my politics and lofty dreams rooted, deep and sequoia strong. Be NICE. Don't be a doormat. And as I wandered, I suppose my unconscious remembered before I did, saw the places where the first seeds were planted. Odd corners and unpaved roads of one great and glorious city.
And so the tears and sobs. Heaps and tons.
And hugs, conversation, blessed quiet, with the dearest people of my past and present, almost like I never left, but with it hanging in the air. The sweetest start of a soft storm, soaking me through, puddle jumping, LAUGHING, to myself and Portland, a city that remains very much mine.