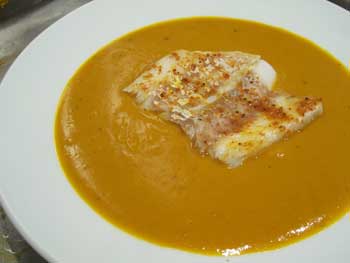 I got stung by a wasp on Sunday afternoon.  The hubster and I were gardening, and I felt what I thought was a sequoia needle stabbing into me.  When I looked down to move my foot out of the way of said needle, I saw the wasp bouncing off my ankle, like a little basketball, over and over.  I yelped, both at the realization and because it really hurt.  I thought I came out of it relatively unscathed until yesterday afternoon, when my foot swelled up like a little balloon, nearly twenty-four hours after being stung.  To be honest, I think I brought this on myself, as the inflammation only occurred after a rather vigorous scratching.  My goodness friends, it itches!  So here I am, swollen footed, gimpy, writing about soup and fish, delicious velvety soup and fish.  George Costanza would eat it with pride.
Velvety Squash Soup
1 winter squash, about 2 1/2 pounds (I used a kabocha – it looks like a dark green pumpkin)
olive oil
salt
1 medium onion, diced
2 tablespoons butter
2 tablespoons curry powder
1/2 teaspoon salt
3 – 4 cups chicken or vegetable broth
1 cup coconut milk
cayenne pepper (to taste, optional)
Cut the squash into large chunks.  If you have a hard time getting your blade through the hard flesh, try gently tapping the knife with a hammer.  I wish I could give proper credit for this discovery, because it works wonders!  Place on a baking pan and drizzle the pieces with olive oil and sprinkle with salt.  Roast in a 350 degree oven for 45 minutes to one hour, until soft.  Remove from oven and allow to cool.
In a medium soup pot, saute the onion with the butter and salt until the onion is soft.  Add three cups of broth and the curry powder and simmer over low heat.  Once the squash is cool enough to handle, scoop out the flesh and add to the onion curry broth.  Using an immersion blender, blend the mixture until smooth.  (If you don't have an immersion blender, use a regular one, adding the squash in batches.  Use very little broth as you blend, or you will have a hot mess splattered everywhere. This is the voice of experience talking and why I have the immersion variety.  Put it back in the pan as you go.)  Add the coconut milk and correct the seasoning and thickness of the soup.  It may need more broth, salt, or curry.  If you'd like it spicier, add the optional cayenne now.  Eat now or continue to simmer over low heat while you prepare the fish.
Floating Fish
2 fillets of firm white fish (neutral flavored cod or halibut are best)
curry powder
salt
Place fish on a baking pan and sprinkle with curry and salt.  Place under the broiler for about 3-5 minutes, depending on thickness.  Remove from oven, gently turn over, and season the second side.  Broil until the flesh is opaque, another 3-5 minutes.
Ladle soup into serving bowls and gently float the fillet on top.  It looks so pretty and tastes even better.
Enjoy!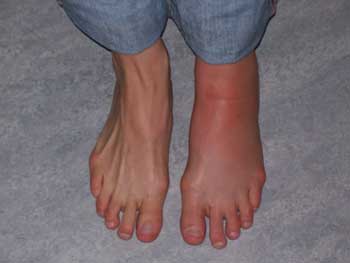 My sad foot.  I hope this doesn't turn you off from the soup, but I had to share.  It's what I do.