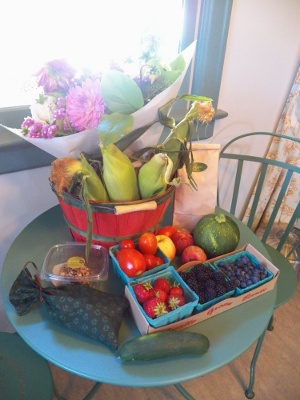 The hubster and I ventured to our cute and very walkable farmer's market this past weekend at Cafe au Play.  It's a coffee shop that had once been a super creepy market that was shut down by the Feds on drug charges, if I recall correctly.  It was bought by a community non-profit and slowly turned into this sweet, family friendly place with lots of great landscaping (instead of an ugly blacktop) and now, a Farmer's Market.  We moseyed over on Saturday, buying some wine, beans, tomatoes, lettuce, fingerling potatoes, and blackberries (Martha – the season has arrived!).  They had a raffle going, and with every purchase from a vendor, a ticket.
Imagine my surprise and delight when I got the call I had won!   I have to say that I made out quite well.  The green fabric bag contained doggie treats, which I gave to one of our favorite pooches in the world, Reggie (he gives them the paws-up!).  The box was some kind of awesome chocolate hazelnut cake soaked in a bit of booze.  The brown bag a scone mix.  I also won a 30-minute massage, a wine tasting for four, and $5 off a pie-making class.  Hoot and holler!
The bouquet looks lovely on the dining room table; we've already eaten all the berries; the corn will be dinner tonight; and the squash turned into bread  some time soon.  Thanks so much Cafe au Play!
And in the losing category – I had a complaint because I wrote someone had a big butt.  I changed it for about a minute before deciding against it.  I wrote what I saw.  That was the gist of the post.  If she had skinny legs, I would have written that, but she didn't, so I didn't, and offended someone.  It's okay if you don't come back, Susie.  I'll understand.