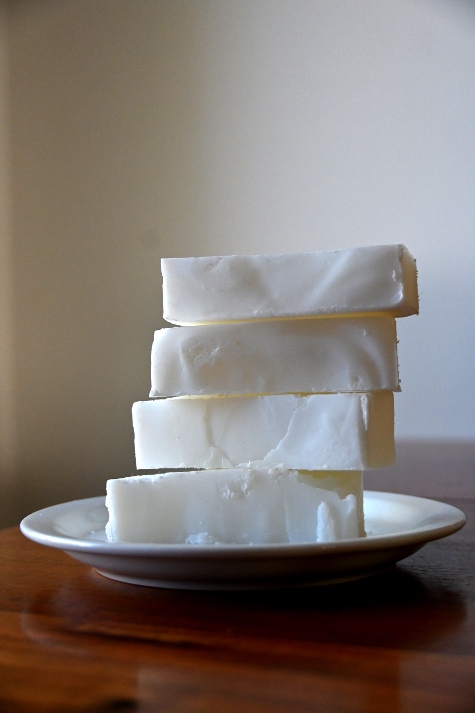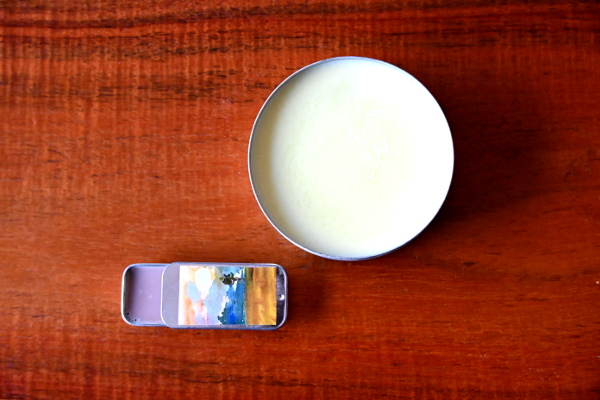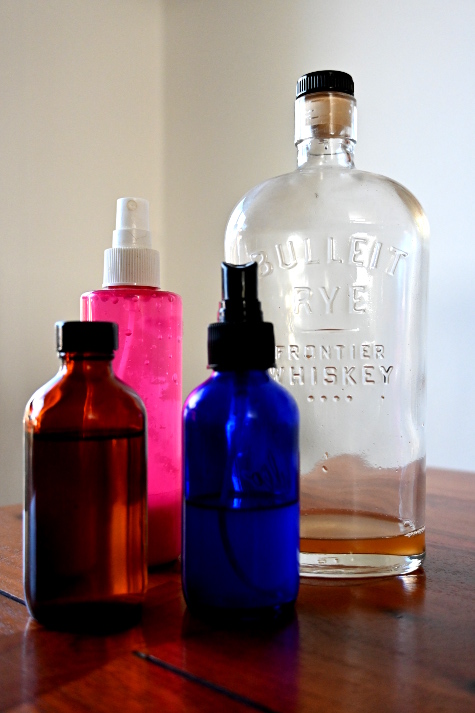 Way back in 2008, I wrote about the concoctions I made in the drinking and body care categories. One of them was kombucha, which I have made off and on in the fourteen years since. We're in an off period now, but never say never about the future!
I also tried various deodorants and shampoos, which in their former formulations I abandoned. The deodorant paste contained baking soda and made my armpits break out in a rash after a couple months, while the shampoo eventually made my hair look greasy all the time. Live and learn.
Today I present you with what I have learned. I still make soap (and very much enjoy it!), for hand and body washing, shampoo, and pictured at top, laundry. This is made from 100% coconut oil (and lye, of course) which cleans clothes exceptionally well and will make your skin drier than dead leaves if you wash with it on the regular. Greg and I grate it with a microplane, using about two tablespoons per load. A batch of eight bars lasts well over a year, mostly because we only wash a load or two a week.
In case you wondering why, since we're such a small family, it takes a while to achieve a full load, usually every two to three weeks for darks and once a month for lights. I considered the minimalist clothing idea at one time, only having a few items in each category, but realized with so few garments, the necessity of washing a small load of laundry all the damn time, and who wants that? No one under this red roof, I assure you. I went for a minimalist color scheme instead – black, white, grey, oatmeal, harvest yellow, forest green, turquoise, and rust for the majority of my tops and sweaters. Jeans in every fade, a single black pair of corduroys, ochre, rust, and green pants, skirts, and shorts. Most every garment is a good match for the others. I also wear everything but the undies for as long as they aren't visibly soiled or smelly.
It's also a boon for all of our water reducing measures in preparation for moving to Taos. We'll have a well and collect rainwater for all of our usage, no endless city taps! It is best to be prepared well in advance.
Getting back to it, I also make hand and lip balms, with beeswax, avocado, and olive oil, sometimes with herbal infusions, like creosote bush and calendula, and the remains of lip balms I've gotten as gifts. The lip stuff I use several times daily and the hand balm every night at bed time. I should also mention the hand balm benefits from the addition of zinc, which is a pretty amazing all-around for skin.
In the liquid category, the pink spritz (a great re-use of a rosewater bottle) has a mixture of zinc, magnesium flakes, sulfur, and filtered water. Greg has super sensitive skin, and this is the absolute best mixture for keeping it clear, soft, and itch-free. He sprays it all over, scalp included. It is not hyperbole to say the change has been astounding. Surprisingly enough, he doesn't smell like matches, either.
The old rye bottle is a mixture of apple cider vinegar and rice water, which I use as a face and hair rinse. The blue spritz is our deodorant – a combination of essential oils (tea tree and white thyme for antimicrobial properties, sweet orange for scent), water, magnesium flakes, and a touch of alcohol. The amber bottle is my moisturizing hair oil. I use castor, olive, and jojoba oil, with rosemary and mint essential oils, which are supposed to stimulate hair growth. That is not definitive, but really smells nice. It helps keep my dry ends in check, at least!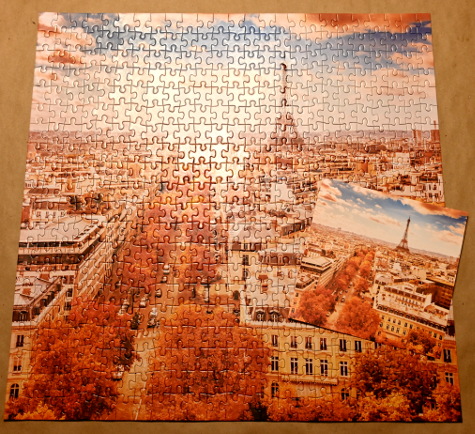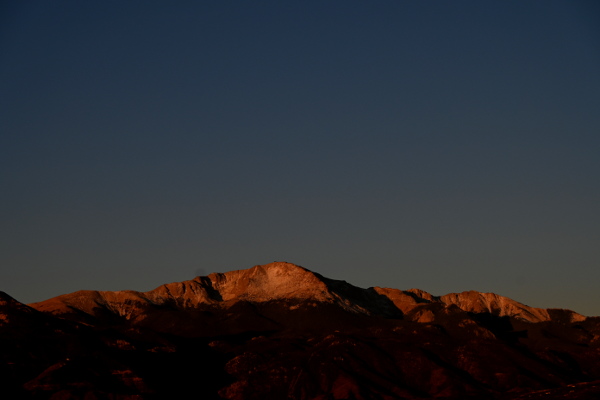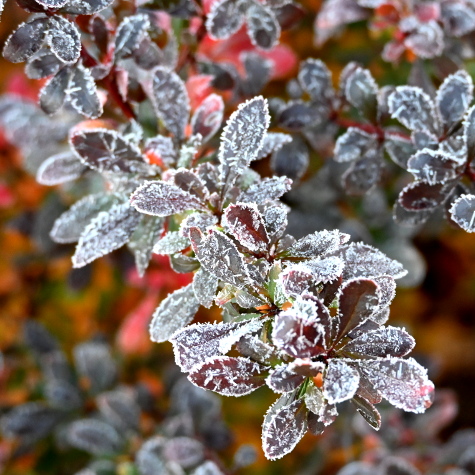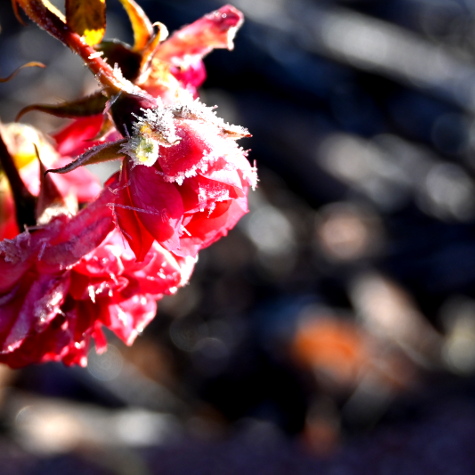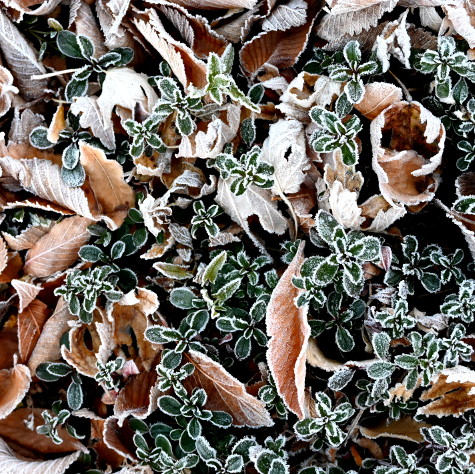 Are you still there? The camera continues to please, dear peeps, in spades!! Our first frost brought a whole host of photographic delights.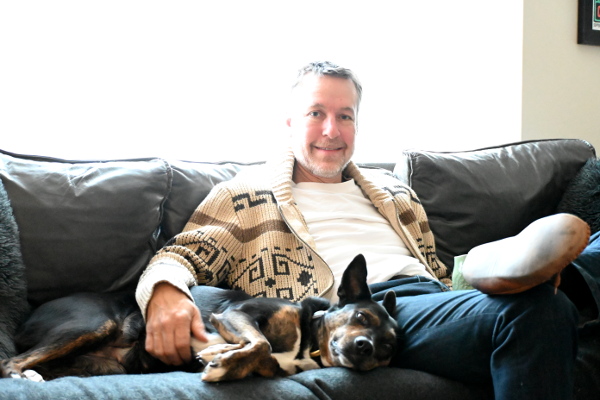 Weekend morning ritual: get up without an alarm, though shockingly close to said usual hour, enjoy a latte or three and a ginger biscuit or three, with Juniper cuddles on the sofa. Right when her pants are full to brimming with ants, we walk!
Oatmeal Raisin with flake salt, crispy-sweet, salty good.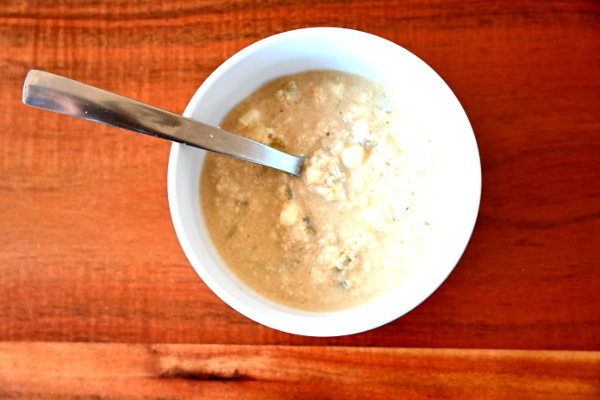 Creamy chicken stew, made with cauliflower and cream cheese instead of actual cream, pureed to smoothness. Add ground chicken, green chiles, corn, onion, garlic, and powdered New Mexico chile galore. Eat super duper fast.
Happy Halloween!!