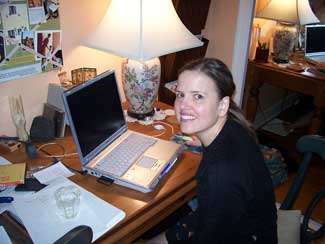 My very first serious crush was on Steve White.  He was skinny (just like I like 'em), with a nice smile and sparkly eyes that wrinkled at the corners when he laughed.  Gosh, I wonder where he is and what he's doing.  I remember that he was good at math and not asking me to be his girlfriend, so I would imagine that added up to some sort of success because I was rather tenacious, and I'm pretty sure he got good grades.  I liked him for a long time, seriously, like five years starting in seventh grade, bless his heart.  Steve, if you're out there, I wish you well, and sorry if I was a bit much at times.  I was young, and, well, I think I can blame it entirely on youth.  Yes, I can.
In high school, he drove a Camaro similar to yesterday's post (though it might have been a Z28, not a SS) – orange with black stripes.  It was a grand car – black interior, a nice rumble, hefty doors that made a pleasant sound when you closed them, the works.  It even started without a key in the ignition, which led us to believe that previous owners were some sort of thieves that always wanted a quick getaway.
I remember him driving fast, and the accompanying feeling of exhilaration rising in my belly.  I remember, too, him saying, and me learning for the first time, "You know, it's possible to go faster than what it says, given the right conditions."  The thought had never occurred to me.  Those numbers weren't the absolute LIMIT?  Something could happen beyond them?  Mind boggling.
You're probably wondering where I am going with all of this.  To cut to the chase (in a 1969 Camaro!), I am participating, along with my friend Kelli, in the National Novel Writers Month (NaNoWriMo).  For the month of November, it is my goal to crank out the first 50,000 words of my second novel: The Sometimes Sordid History of My Penmanship. This really is like cruising in Steve's cool car.  My belly's gonna flip-flop for certain.  To give you an idea, yesterday's post was 503 words.  I'm going to need 100 times that in thirty days.
As a writer, and according to the guidelines, I am starting only with a rough outline, a few locations, the names of the four main characters (Lionel, Cassandra, Joanna, and Calvin),  a 1966 Volvo P1800, and a 1954 Chevy 3100 pick-up (If you haven't figured it out already, I've got a thing for cars). The rest, to paraphrase Kurt Vonnegut, is up to me and the hand of God, as 1667 words per day, every single single day for thirty, is no small feat.  When I wrote Polite Society (80,645 words), I took well over a year, often going for weeks without touching the keyboard.  My best day, if I recall correctly, amounted to 2300 words.
Talk about a wiz-bang!  Additionally, aside from updates on my word count, I don't know what it will look like around here.  I might, as Steve said, go beyond the limit of my speedometer and have time to spare for blogging and who knows what else (Square dancing?!  Fencing?!).  On the other hand, I may go out of my mind and never blog again from the shock of it all.  In any case, say a little prayer, send me good thoughts, whatever you feel comfortable with.  I'd appreciate it!
p.s.  Just to get me into the zone – that up there is 579 words.