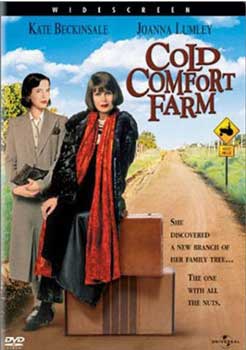 If you are anything like me, you probably seek familiar comforts in times of stress, the pleasures that feel most like home: certain foods, music, books or movies.  As you might imagine, after having my body go through such upheaval and pain, combined with the emotional baggage of requiring so much help from others, this week has been a giant one for comfort seeking.  I'm listening to lots of Iron and Wine, eating knox blox like I did when I was a kid (though now they are a healthier, fruit juice version), and moving through my favorite movies in our collection, Cold Comfort Farm being at the top of the list.
It is a wonderfully witty film about a young woman living in 1920's Britain.  Both of Flora Poste's (Kate Beckinsale) parents have just died.  Since she is the sort of woman who isn't accustomed to regular work (with no desire to try, except to write a novel at age 53), and has a small income from her parents' estate, she would rather find relatives with whom to live until she gets married.  She sends out piteous letters, hoping to find just the right match, for she's also seeking a family that's a bit of a mess, one she can get back into shape.  The letter of response that sounds (and smells) most promising is from her cousin Judith on Cold Comfort Farm.  "We must atone for the wrong done to your father, Robert Poste's child."
What ensues is a hilarious romp in the countryside,  filled with a wide variety of kooky characters and scenarios.  First, there is cousin Judith, the writer of  the letter.  She is a gloomy sort, obsessed with her beautiful, libertine son, Seth.   Then there's cousin Amos and his rather peculiar brand of hellfire and brimstone preaching, shouting,  "There'll be no butter in HELL!"  to his quivering brethren.   The next of the lot is Aunt Ada Doom, who saw something nasty in the woodshed and refuses to come out from her room, save one very serious occasion each year.  There's also Adam Lambsbreath, who'd rather use a twig than sully a beautiful dishmop, as well as Rubin, the one who really ought to be running the farm.  Flora uses her particular brand of practicality to make each of their dreams come true while also introducing the concepts of family planning and afternoon tea.
The silly and sometimes outrageous story is only enhanced by the often wickedly clever dialogue.  Here's just a few of my favorite lines:
"In fact, when poetry is combined with ill groomed hair and eccentric dress, it is generally fatal."
"It is bad to be dewy eyed among smart people, but you can always secretly despise them."
"I saw something nasty in the woodshed!"  "Sure you did, but did it see you, baby?"
"Oh Charles, you do have heavenly teeth!"
Oh, such comfort on Cold Comfort Farm!  Thanks for never letting me down.