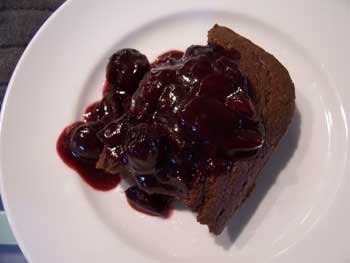 Another, equally satisfying title to this post could be Yum, or Perfection.  Indeedy.  Chocolate and Cherries are hard to beat.  Something else that is hard to beat is sensibility.  If you've been reading for a while, you know how I wrestle with sugar, or, at least, how I have wrestled with it.  I am bad, weak, unhealthy, (insert other appropriate adjective), for eating the stuff.  I spent a lot of time on it, A LOT.  Many hours that, no doubt, added up to days of my life fretting about my consumption of sugar and how I really needed to let it go and be a better, stronger person.  Heavens to mergatroid was it ever taxing, and to what end?  Did I ever actually stop eating sugar?  Not for any extended period of time.  Did I ever feel better about myself for being my own persona non grata every time I consumed it?  Certainly not.  It was just ugly self-flagellation.
So now, in hopes of being kinder and gentler to my whole self, not just the parts that I've idealized, I'm going to eat it and do my darndest not to criticize or second guess myself for it.  If I so desire, I'm going to bake a cake, have a slice, and REALLY enjoy it (well, if it tastes good – I do have standards).  I don't want to halfway enjoy it while simultaneously beating myself up for not being strong enough to say no or whatever.  I am laughing at myself as I type this!  How silly and schizophrenic I have been.  Life is meant to be enjoyed.
So, to the cake.  I call it zippy because it comes together very quickly and the sauce cooks while the cake bakes, so you can eat it warm from the oven.  I love that – impatience and deliciousness in one go.  I can't remember where I first saw a recipe like this, maybe the Moosewood Cookbook?  It is vegan, moist, and delicious.  And, since this is the kind of gal I have become, I used whole wheat flour in place of some of the all purpose.  If I can make it a little healthier while still being utterly yummy, I'm going for it.
Zippy Chocolate Cake
1 cup whole wheat flour
1/2 cup all purpose flour
1/3 cup cocoa powder
1/2 cup sugar (So sorry!  I left this out the first time.)
1/2 teaspoon baking soda
1/2 teaspoon salt
1/3 cup vegetable oil
1 cup cold water or coffee
2 teaspoons vanilla
2 tablespoons apple cider vinegar
Preheat oven to 375.  Grease an 8″ square pan.  Sift dry ingredients together in a large bowl.  Combine wet ingredients.  Mix wet and dry together quickly until smooth.  Pour into prepared pan.  Bake 25 – 30 minutes, or until a toothpick comes out clean.  If you use the whole wheat flour, this may take longer.  It's okay.
Serve plain or with fruit sauce (raspberry, peach, blueberry, strawberry, or plum would be good, too!).  I used my recipe included with pancakes, here.  It is also good frosted or sprinkled with powdered sugar, and eaten out of hand.
Enjoy!