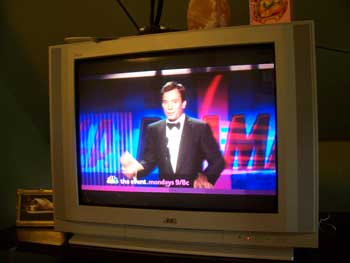 Good Morning!
Jimmy Fallon, cutie patootie of my television set, you did a terrific job as host of the Emmy Awards last night (I like your show, too).  I'd go so far as to say that Billy Crystal probably thought you looked mahvelous, and that's saying a lot.  What a hoot that was, especially seeing Jimmy's imitations – he's good!  Not to mention the belly tickling humor, all the touching speeches, and the great opening number.  Jon Hamm, let's be square dance partners some time.  You can toss me up in the air.  Yes?  Okay!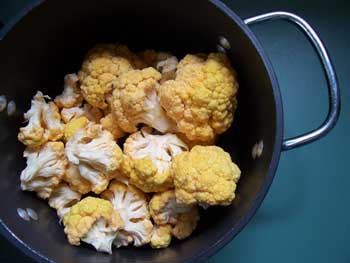 Of course, the handsomeness of the tuxedos and the gorgeous gowns made me swoon.  And they were mostly good too, pretty and sparkly and fine.  Save a few, of course.  I don't think ladies should look like they are draped in blue plastic or are in the process of imitating a Victorian lamp, no, no, no.  But who am I to judge, really?  If you feel pretty and your boat is afloat, I should keep my lip buttoned.  It's not like I've ever had to choose a dress for the world to see.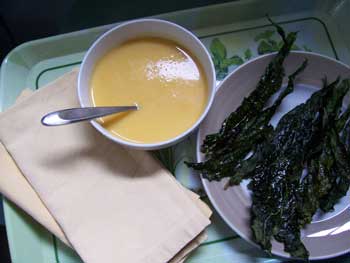 As I am well aware that I become rather like a child once an award show comes on (as in, do not talk or distract me in any way unless there is a commercial), I thought ahead and made a simple supper that could easily be eaten directly in front of the television – Cauliflower cheese soup and our go-to green snack, crispy kale (recipe here).  This soup is good, my friends, and for it's mind boggling simplicity, it's truly hard to beat.  How about that crazy cauliflower color, too?  Orange like cheetos, but totally natural, certified organic even.  Mmm hmm.  Here's the recipe –
Cauliflower Cheese Soup
1 head cauliflower florets
1 quart vegetable stock
4 ounces cheese, grated fine – I used colby jack, but cheddar or gruyere would work nicely, too
1/2 teaspoon smoked paprika
dash cayenne pepper
salt, to taste
Place the florets in a soup pot (mine is 3 1/2 quarts) and add the stock.  Unless your florets come from a very small head of cabbage, the stock won't cover them all, so don't fret.  Turn the heat to medium-high, and cook, covered, for about 30 minutes, until very soft.  Puree with an immersion blender until smooth – or you could leave some of the floret pieces whole if you like it chunky.  Taste and add salt as necessary.  Add the cheese, paprika, and cayenne pepper.  Stir until cheese is melted and well incorporated, about one minute.  Serve.  We had ours with the kale, rye crisp and a little butter, but crusty bread would be nice, too.
Enjoy!