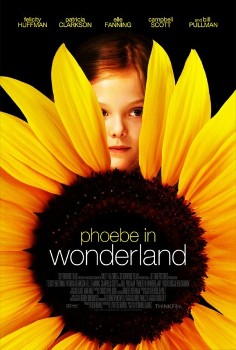 After the requisite Thanksgiving feasting was over and the hubster and I could not fathom any sort of activity that required serious use of mind or body, we headed upstairs to watch a movie.  Something light, I thought.  Yes, that would be good.  After a search of our Netflix queue (I love streaming video!), we found what looked to be the perfect choice:  Phoebe in Wonderland.  The description says it is about a girl who starts to see the characters from Alice in Wonderland after she takes a role in the play.  Silliness and fun!  Let's do it!
Though there is some silliness and fun, the film is hardly that, but in a good way.  Phoebe, superbly played by Elle Fanning, is a beautiful and slightly peculiar young girl, frustrated by sameness and rules that make no sense.  She lives with her parents, Peter (Bill Pullman) and Hillary (Felicity Huffman), and a rather precocious younger sister, Olivia (Bailee Madison).  On the outside, they have what seems to be the perfect life: happy and successful writers that live in a gorgeous home with two whip smart and lovely daughters.
Truth be told, Phoebe's behavior is troubling, more and more so (obsessive hand washing, hopping, and uncontrollable spitting, among others).  Olivia wishes her sister weren't such a weirdo while being a bit of an angry radical leftist herself.  Karl Marx as a Halloween costume, anyone?  Hillary is struggling to keep up with the increasingly difficult duty of being a mother to two such precocious children, is jealous of her husband's success, and can't seem to find a moment to write herself.   While Peter, happy for his own modest achievements, can't disguise his hopelessness at his inability to help anyone in the family.  Things take a turn for the better and worse when Phoebe meets the lovely and equally eccentric Miss Dodger (Patricia Clarkson), tries out for the school play, Alice in Wonderland, and finds sanctuary, however small, whenever she jumps down the rabbit hole, so to speak.
It is a beautifully filmed story, filled with gorgeous locations, saturated colors and rich, complex characters.  At it's heart, it is an earnest film about life.  It is scary, confusing, and unpredictable, and filled with rules, questions, cruelty and unreasonable expectations.  It is also filled with love, acceptance, imagination, infinite kindness, and honesty.  The best way to survive it is to embrace it (and yourself), just how it is, without shame, and forge headlong into the unknown.  Jump!