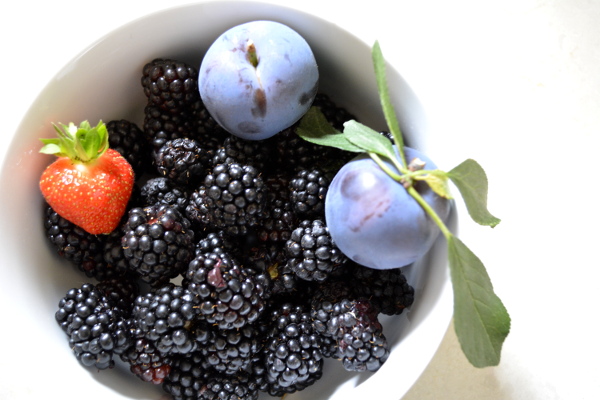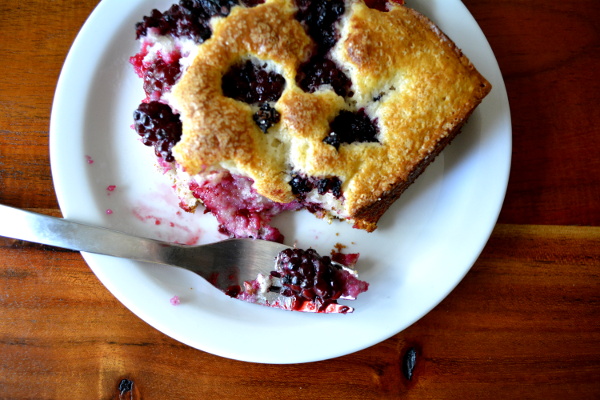 Hey there, happy Friday!!
A small bowl of our burgeoning orchard bounty: a perfect strawberry, two plums of a dozen on the tree, and the blackberries, so many blackberries this year! The cobbler was a fine way to snazz them up, though they are pretty magical eaten straight from the cane.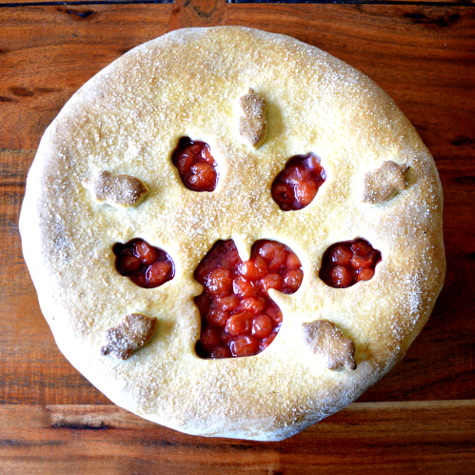 Have you ever had the pleasure of a vlaai? It's a pie or tart of the Limburg region of the Netherlands and Belgium, though different by virtue of a slightly sweet yeasted crust. I discovered it in the fabulous Home Made series by Yvette Van Boven, of which I own three. She's a marvelously clever cook and infuses her books with fun humor and drawings.
This was my first vlaai with the cherries I canned from my neighbor Judy's tree. In future, I will roll the dough thinner, as it puffed much more than expected. The pie was truly delicious, however, sweet and tart, and pretty cute, too, if I do say so, the squirrel and her quarry of acorns. We enjoyed it with our neighbors, Judy, Barb, and Jack, over a splendid afternoon of tea and conversation.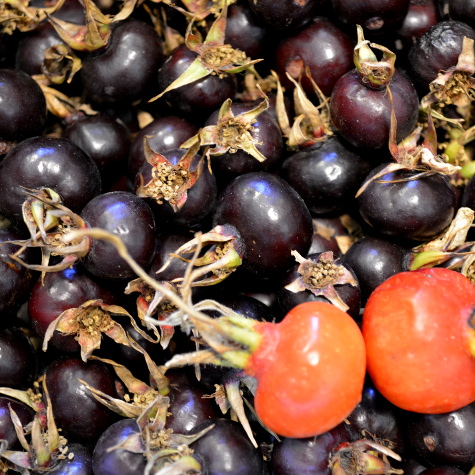 These super dark rosehips (plus two from another) are from a bush my mom gave me in memory of my Grandma Tess. In spring and early summer it is covered in sweet scented white blossoms, which makes it a real year-round stunner! I tried to make a jelly with them and crab apples from down the street, but despite their beautiful pink flesh and and flavor when raw, they were utterly bland and uninspiring when cooked. It's too bad, because the rose hips made the prettiest purple color. I'll see what I can do with them next year.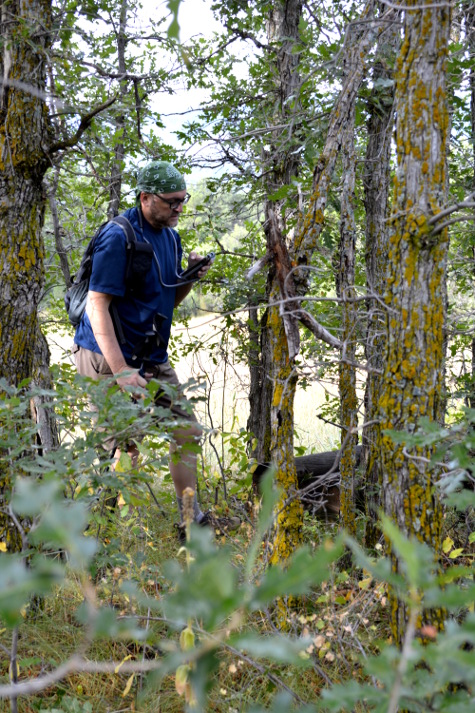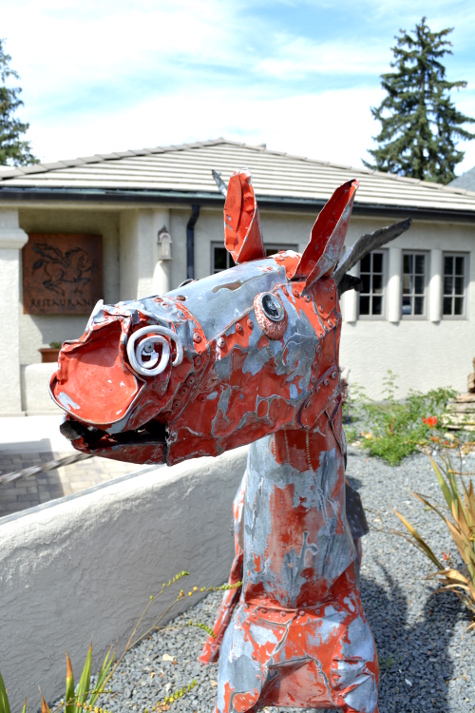 We've been hiking with Jeff (geocaching action shot!) every couple of months, enjoying discovering places midway between our houses and enjoying breakfast afterwards. This time it was Pegasus in Castle Rock – get the breakfast quesadilla and be glad.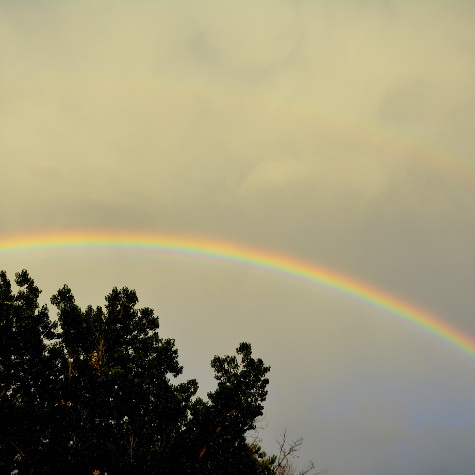 Rainbow connection…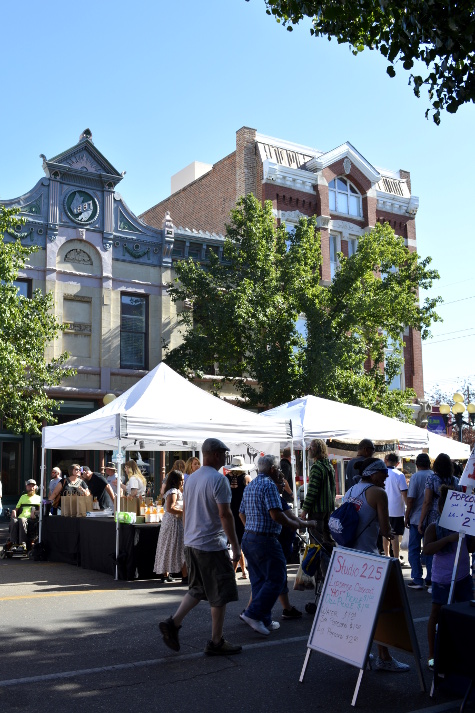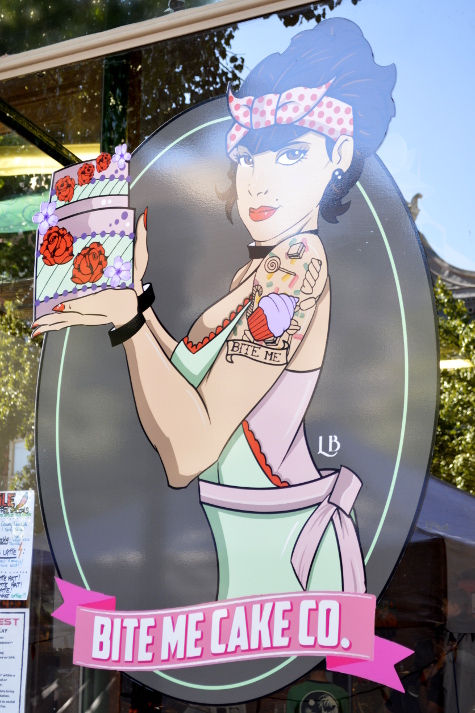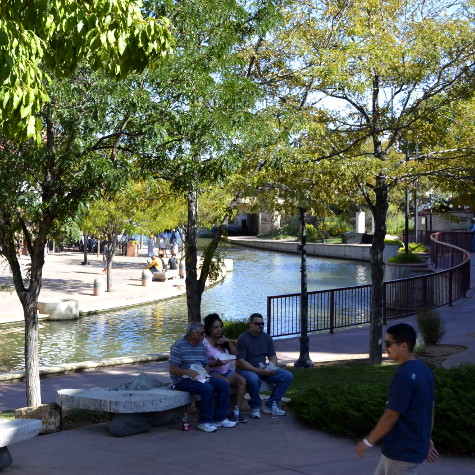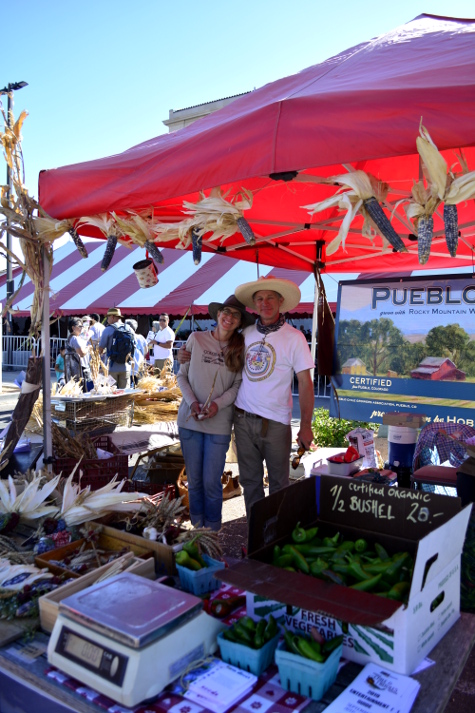 Greg, Juniper, and I had a super time, along with thousands of others, at the Chile & Frijoles Festival in Pueblo last weekend. It was a picture perfect day, not a cloud in the sky, air redolent of roasting chiles, of course. We enjoyed fair food in the form of a smoked turkey leg, some supposedly award winning, yet awful and outrageously expensive green chile, truly yummy green chile ice cream and a jalapeno brownie (thank you Bite Me Cake Company!). I also bought the fab poster pictured above, and a half bushel of organic Pueblo chiles from the nice people at the Hobbs & Meyer farm stand. It took me the better part of a day to prep and can them, but I have three quarts and a pint now ready to roll.
In making conversation with the kindly man on the right, I realized I've been eating chiles my whole life.  As my Great Aunt Mary (Hello in heaven!) would say about bananas, I'll take them any way I can get them: in chile and tamales, of course, in salad, on top of eggs, filled with cheese in a relleno, in queso, atop a burger with cheese, roasted and straight into my mouth.
It's funny how I never really thought of it as being a "thing" until my years away from the Southwest. When I talked green chile in Portland and Pittsburgh, most people assumed it was something completely different, Texas style with ground beef and kidney beans or a truly awful concoction with, gasp, carrots and celery. How  wonderful to be among people who know, even though they might still make a total cock-up of the recipe by adding tomato or beer or other nonsense.
p.s. For some cool and muy authentic Mexican recipes, with chiles, of course, visit this sweet lady.