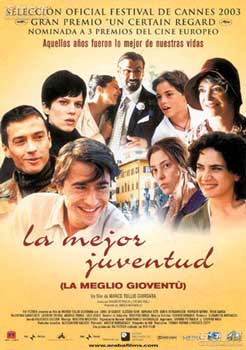 Have some time on your hands, say six hours or so?  Would you like to learn a little Italian as well as some recent Italian history?  Well then, queue up The Best of Youth and prepare to be dazzled.
The film, originally a mini-series on Italian television, follows the lives of two brothers, both brilliant and quite different in temperament, Nicola and Matteo Carati.  The story begins in 1966, as the brothers  prepare for exams and a summer of traveling the continent with their friends.  Life takes a turn, however, when the idealistic Matteo discovers a young woman named Giorgia victimized by electric shock at an internship.  Rather impulsively (a theme for him), he takes her from the hospital and the brothers embark on a journey to bring her home.
When the plan goes awry and Giorgia is taken by the authorities, the brothers, rather than resume their voyage, part company, both literally and metaphorically.  Matteo abandons his plans to become a doctor, joining the army and later the police, while Nicola travels to Norway, then back to Italy to help with the horrible flooding of Florence.  It is there that he meets and falls in love with Guilia, a pianist with violent communist leanings, while becoming a psychiatrist.
It is a story full of love, heartache, laughter, and surprises, exploring the bonds of family and friendship through the lens of forty years of Italian history (so much I didn't know!).  A marvelous look at the beautiful people, landmarks, and landscapes, it is a story that will stay with me for a long time.