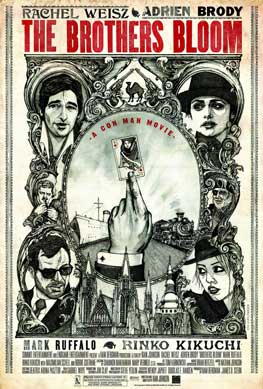 I lead a very privileged life.  The kind that makes me want to shout from the rooftops in ecstatic joy at all I have: a perfect-for-me husband who is as handsome as can be, a great circle family and friends, a lovely home, cute and cuddly cats, and cinematic gems like The Brothers Bloom.
It's the variety of story that made me fall in love with the art of film making in the first place: beautiful cinematography and that magical combination of wit, suspense, humor, and yearning.  It doesn't hurt that one of my long-standing movie star crushes, Mark Ruffalo, plays one of the leads, or that people fall in love, either.  I'm a big fan of love, but I think you knew that already.
The Brothers Bloom are con men from way back, childhood, in fact, weaving the quite literary Stephen's droll tales into brilliant, theatrical cons of world renown.  The problem, as there always is one, is that Bloom, Stephen's sensitive younger brother, has never liked the game and wants out, for good.  This isn't the man he wants to be.  Longing to write the story of his own life, he leaves Stephen and their pyrotechnic expert of a side kick Bang Bang to be alone.  They find him months later and convince him to do one last con.
What ensues is a sweet, tender, hilarious, and nail-biting adventure as Stephen, Bloom, and Bang Bang engage the naive and wise hobby-collecting Penelope.  Globe trotting, the story grows more complex and unpredictable, as Bloom falls hard for Penelope, and the brothers are threatened by their former teacher and arch nemesis, The Diamond Dog.  It had me on the edge of my seat, in delight and trepidation, wondering just who was conning whom.