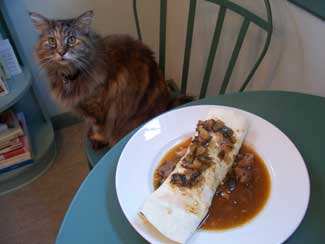 This here, my pretties, is truly happiness on a plate, well, at least, for me and my family.  Paris, as much as she may want a taste, will get no such thing.  It's mine, bwa ha ha!  But, you, gentle reader, should you like to follow the recipe, can savor bite after bite.  I'm going to put on my teacher hat here and ask that you read the whole recipe before you start, because it is done in stages.  You'll see.
Colleen's Green Chile Burritos
2-4 pound pork shoulder roast, cut into 1″ chunks, removing as much fat as you can
28 oz diced green chiles – the really big can (use more or less, to your taste)
2 fresh poblano peppers (optional)
1 dried ancho/pasilla chile (a dried poblano with different names – very dark and wrinkly)
1 dried New Mexican chile (dark red and slightly translucent)
1 large onion, diced
8 cloves garlic, diced
2 teaspoons salt (I use alder smoked sea salt from Mountain Rose Herbs, fantastico!)
1 teaspoon chile powder (optional)
1 teaspoon cumin
1 cup dried pinto beans
1 piece kombu seaweed (optional)
water
tortillas
grated cheddar or monterey jack cheese
other toppings of your choice – lettuce, sour cream, avocado, black olives
For the beans:  The night before you want your burritos, get the beans soaking.  I use the same pot I will cook them in.  Use enough water to allow the beans to triple in volume.  Once the chile is going, drain the soaking liquid from the beans, and add enough water to cover by about an inch.  Add the kombu – it is supposed to help with the dreaded after-effects of beans, and truth be told, I think it works.  Whenever I make beans without it, I'll be honest – there is more farting.  I bought mine at New Seasons ages ago, but I'll bet an internet search will reveal more sources; the package lasts forever – unless you're big on beans.  Getting back to it.  Add two cloves of diced garlic. Cook on low heat for 2-3 hours, adding 1 teaspoon of salt at the END.  Add it too soon and the skins will be tough.  Strain the excess liquid along with the kombu (It will be slimy and likely in a few pieces) and keep warm.
For the green chile:  Brown the cubed pork in a little oil on medium high heat, working in batches to keep from overcrowding the pan.  Place in crock pot on low heat.  In the rendered fat of the pork, saute onion until soft.  Add to the crock pot. Add the canned green chiles to the pan, filling the empty cans with water to get all of the chile goodness and adding to the pan to deglaze.  Add this mixture to the crock pot.
Chile Peppers: Chop the dried peppers into small bits with a very sharp knife, discarding the stem.  OR, even better, whirl the peppers, stems removed, in a food processor until they are thoroughly pulverized and kind of pasty. Add to crock pot.  Also, for the locals, Food 4 Less is the absolute best source for chiles, and come to think of it, just about all ethnic foods and sundries – Asian, European, Russian, and Latin American.  It's quite the adventure.  To roast the fresh poblanos, I turn on a burner and hold the pepper over it until the skin gets blackened, rotating it to get it even.  Your kitchen will smell like chile heaven.  Once all sides are good and dark, place in a paper bag until cool.  Remove the skin by rubbing it with your fingers (don't touch your eyes, ouch!).  Dice the peppers, discarding the stem, keeping the seeds if you like it a little more spicy.  Add to crock pot.  Add cumin, chile powder, garlic and 1 teaspoon salt.  Add 1 cup water.  Cook for 2-3 hours, until the meat is tender and thoroughly flavored.
Putting it all together:  Take a tortilla and set it on a burner turned on medium heat, rotating quickly to keep from sticking or burning.  Once it has softened a little, turn over and do it all again.  Add beans, a layer of pork, and a handful of grated cheese.  Roll up, um, like a burrito, tee hee.  Add another handful of cheese, and top off with another ladle of green chile goodness.  Add your favorite condiments and enjoy!
Added info – I don't know how much this makes – I'd say at least ten burritos, but I don't know if you are a Gregory burrito – MONDO or a Colleen burrito – just right.  Let's put it this way – the recipe fills half of my crock pot, which  holds 6 1/2 quarts.  Also, if you want your chile thick, like a stew, turn the crock pot to high about a half an hour before you want to eat.  Once it is bubbling mad, take a ladle full of the chile and add 1/4 to 1/2 cup of flour, stirring thoroughly to avoid lumps.  Put back in crock pot and quickly incorporate it.  Keep the the lid off.  It should thicken in a few minutes.