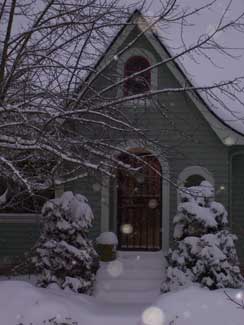 Hello Everyone!  It's been a while, my digital friends…
As you can see, our red roof is currently under a rather thick blanket of snow.  Yikes!  Save the times we've gone outside to shovel the walk and feed the animals, we haven't left the house since Friday evening.  Now that doesn't really sound so terrible, but when you know you can't get out, it makes it feel like it's been even longer since you left.  The mind plays funny tricks.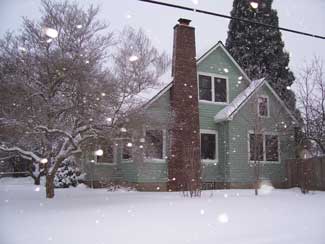 To pass the time, we've watched A LOT of Netflix, in particular, the ENTIRE first season of 30 Rock, plus a few episodes of the second season, and the movie Becoming Jane.  We now feel pretty complete in those areas.  Like there was ever really a problem.  Again, the mind plays funny tricks.
I don't know where I saw this, but I liked it and thought I would share it with you.  The five things I do every day:
1. Drink my fiber drink (for those who don't already know about this, it contains: fiber (think psyllium or inulin), Emergen-C powder, spirulina powder, acidophilus, homemade kombucha, and lemon flavored cod liver oil (most of us are Vitamin D deficient)).  Digestive health is very important people, and besides, I think it tastes good!
2. Exercise.  Also very important.  I like to walk, but not in the snow drifts we have today, practice yoga, Nia dance (or just dance around the house like a crazy person), lift weights (not too heavy), and row on the machine in the basement.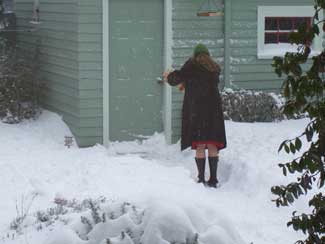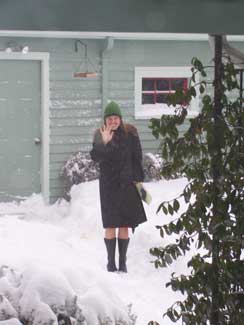 3. Feed and/or watch the animals in our backyard "habitat."  That's me this morning.  I am sharing stale corn chips with my peeps.  I am wearing my hubby's overcoat, my new nightgown from my parents (thanks!), rubber boots, and my green hat.  The hat rarely leaves my head these days.
4. I like to make good food.  I like simple ingredients done well.  I am not terribly fancy.
5. Love my life.  I can't imagine a better one.  I have an amazing husband, healthy, happy, and fun friends and family, cute kitties, a lovely home…the list goes on.  It is all very sparkly, just like a holiday (that's a quotation from Rain Man film fans).
Comments are now closed.