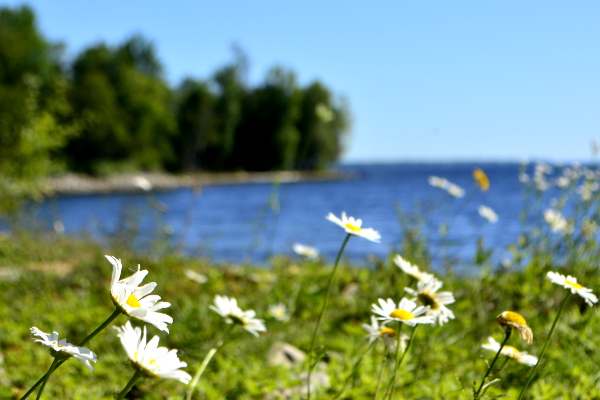 This here. This Superior-Michigan-Huron strip of land, said without real fanfare despite having plenty, is what started it all. I read a lot, every manner of media, and scribble little notes as I do. In magazines and cookbooks and stories, the U.P. kept rising, literally and figuratively to the top. The plan began.
Far away, with a solid twenty hours of driving, it was important to pace ourselves, to take in as much as we could without going over our self-imposed two-week limit. You've seen that wondrous journey to what became, for sure, the absolute highlight. The whole shebang!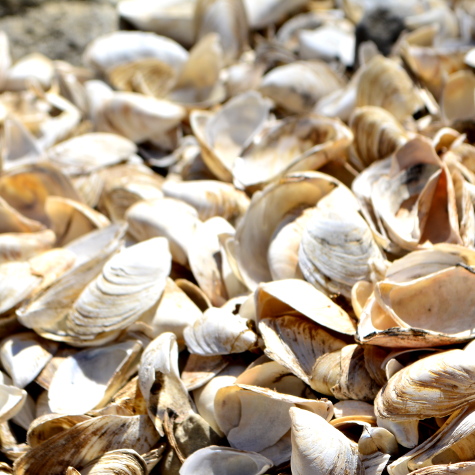 These photos were our first up close and personal look at Lake Michigan. Just outside of Escanaba, which is another cute town, another friendly place. We enjoyed lunch at the Swedish Pantry, where kindly women are truly welcoming, and you can't help but share the main (meatballs, sausage, rutabaga, coleslaw, bread!) because deciding between two desserts – walnut sour cream pie and a baked apple dumpling – is impossible. Um, yes.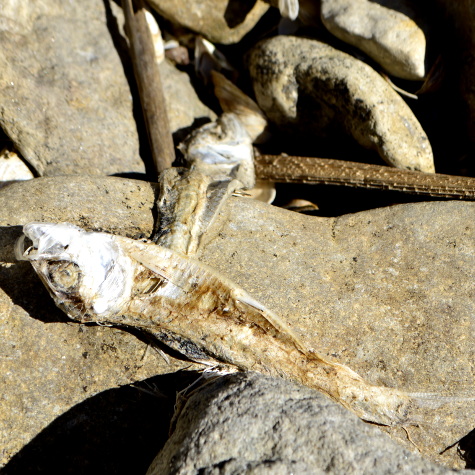 This is the portion of our journey where I am honest and say traveling is sometimes hard. Juniper, in a rather stealth maneuver, ate one of these rotten fish, probably the size of a large sardine, and got sick. Not horribly so, but, let's just say it could not be ignored.
Also on this leg of the journey, we got a lot of rain, gloriously big drops of sweetness from the sky. But our new windshield wipers, which Greg promised to install, were happily ensconced in the garage at home. My dismay turned into a fiery-quick rant before all went quiet and our wee ship was righted again.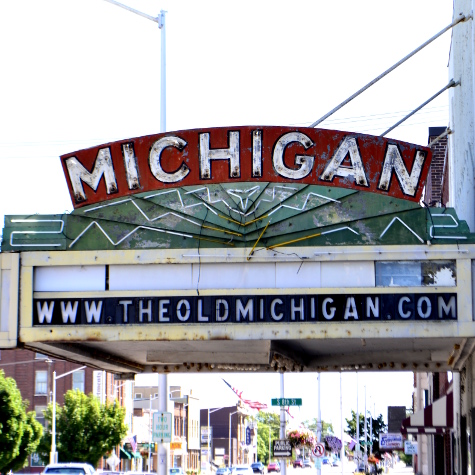 Sand Point Light House. I expected to take more light house photos, but I think this may be it. A very fine example nonetheless!
Also, if you have been with me for a very long while, you probably remember I "collect" license plates, not in the literal sense, but a look-see at every passing car. On vacation, however, I am quite diligent and keep a pen and paper list, hawk-eyed until all fifty states, plus D.C., are present and accounted for. Normally, the same few states, Delaware, West Virginia, Rhode Island, and Hawaii, are the trickiest to find. Greg was pleased as punch to point out, while I was taking my snaps, that Rhode Island was right in the parking lot. Squee-e!
This was actually my best ever collection. In addition to the usual fifty, plus D.C., I spied: Chihuahua, British Columbia, Saskatchewan, Manitoba, Ontario, and Quebec. And on the U.S. Native side, the Bureau of Indian Affairs, Cherokee Nation, and Seneca-Cayuga Nation. Toot-toot!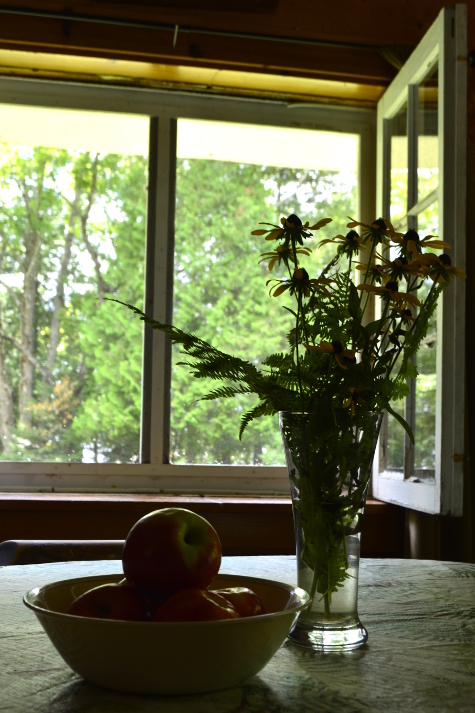 The owner left us a bouquet of flowers.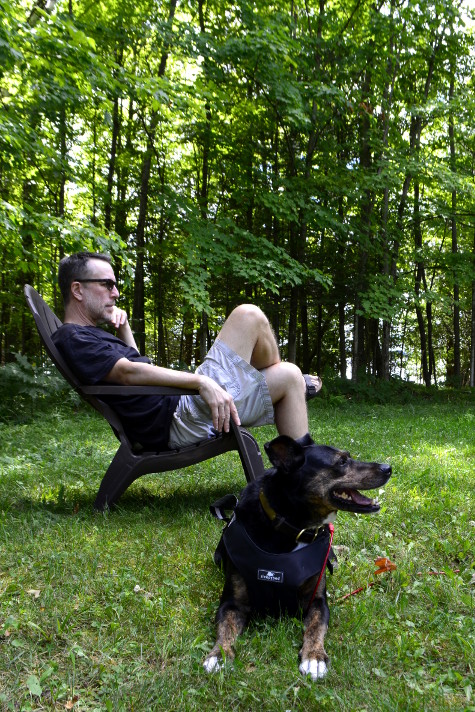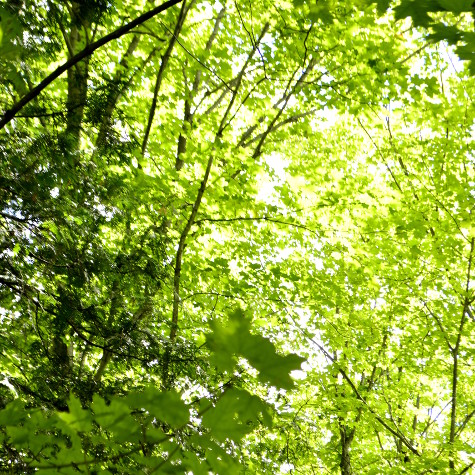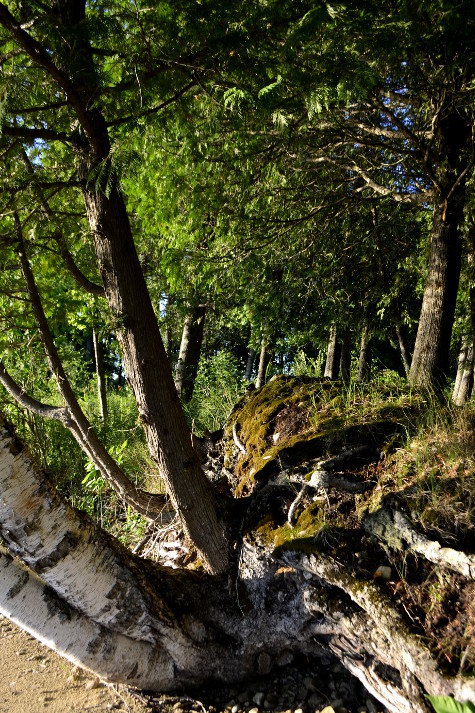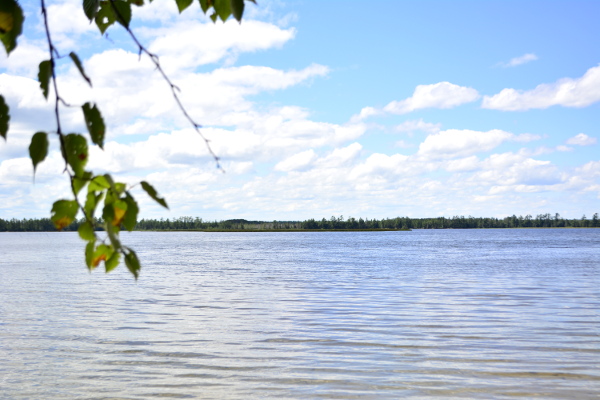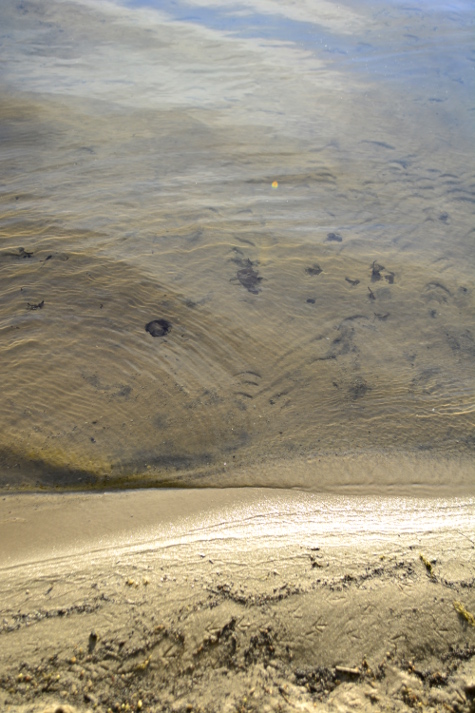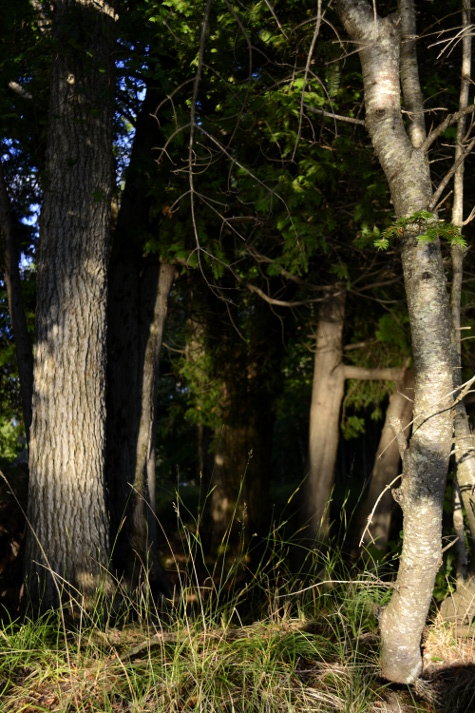 Light from the water reflecting on the trees. Sigh…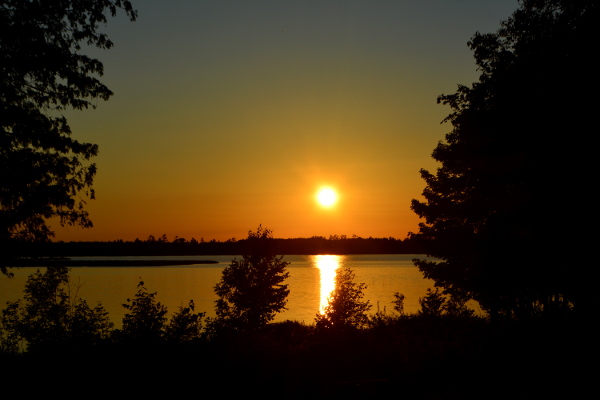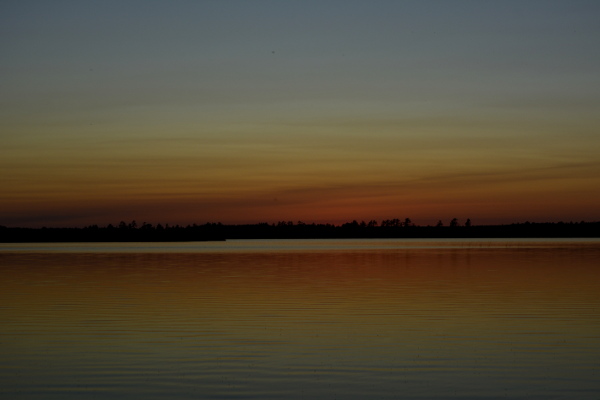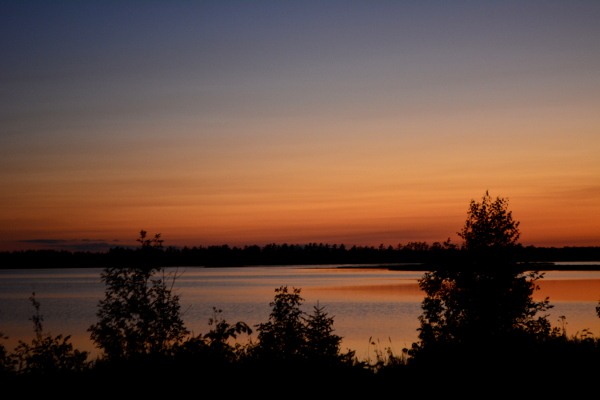 Oh my gosh, how I loved our rustic cabin in the big woods! No electricity, save a wee bit of solar, no running water, and a cozy, sleep across from each other bunk bed situation did nothing to diminish the amazing lakeside location.
We initially kept Juniper on her very long leash, but eventually let her run riot, and she circuitously zoomed about: squirrel-water-oh, are you eating? This stay was our giant collective sigh, strolling barefoot, spending long hours reading, then tree gazing and bird listening before kayaking and watching the long and gorgeous sunset unspooling across the sky. We bathed in the sauna and skinny dipped in the warmth of the lake. We cooked nothing, grazing on cereal, apples and cherries, Grandma's Kaukauna cheese spread thickly on crisp crackers, nibbling sausages and Old Dutch Cheesy Puffcorn. We drank tea and beer and Dr. Sprecher, some of the best soda we've ever tasted. As I am fond of saying, but only when true, it was the height of splendor, the height.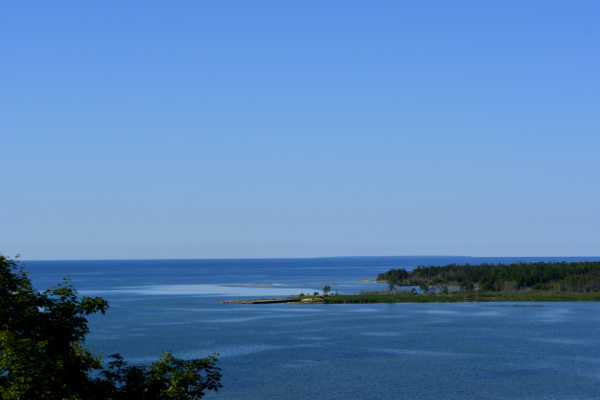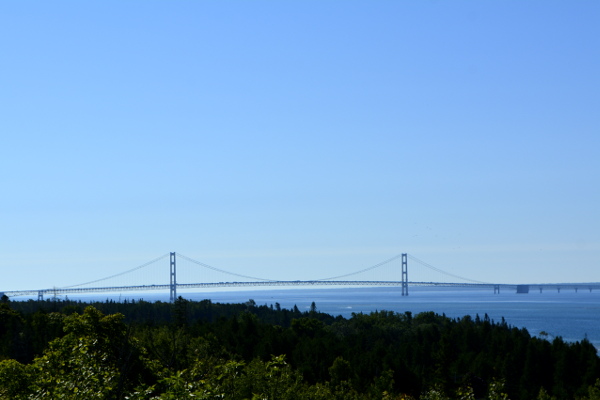 The Mackinac (mac-in-awe) Bridge – a beauty spanning 26,372 feet
Then there was this! Stunning view after stunning view all along our winding trip around the U.P.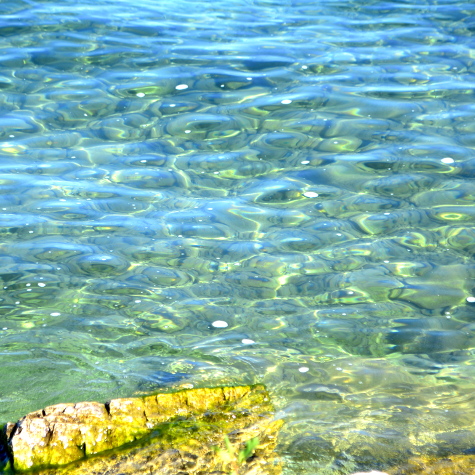 Lake Huron at St. Ignace. We wandered, enjoying the shore, the shopping, and, of course, the food. As you can imagine, fish is a big deal here, and in particular, Whitefish, which we, and me especially, enjoyed. First, at a roadside shop, where it was super fresh and perfectly smoked. The whole package was devoured at a picnic table for breakfast. Then at The Gangplank in St. Ignace, a perfect fillet crisply fried and nestled in a tasty bun. Mercy.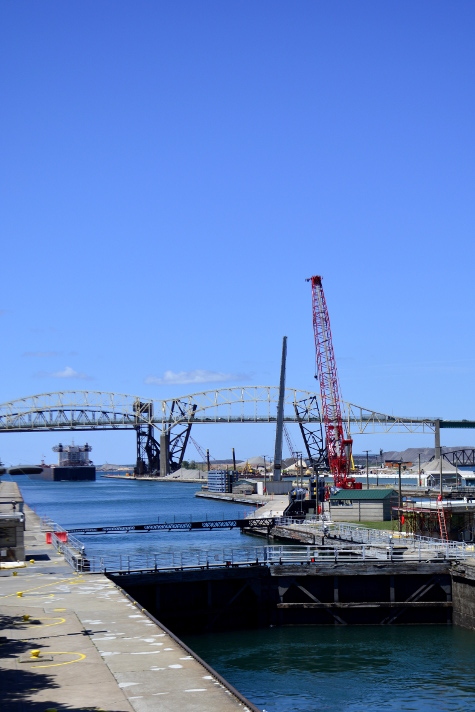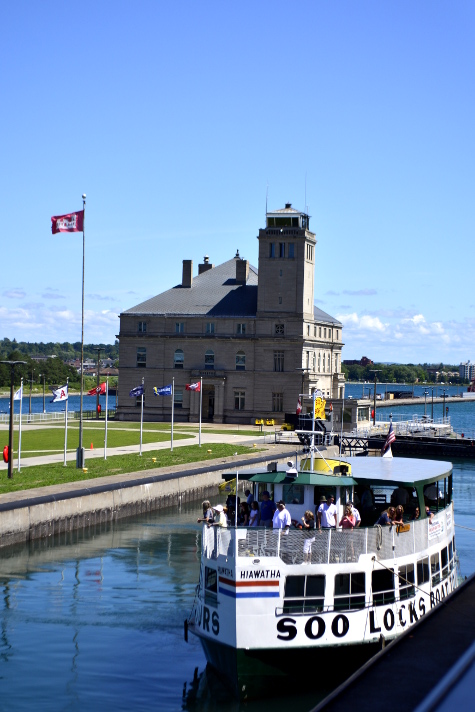 The truly marvel-ous Soo Locks in Sault-Ste Marie. Many thanks to the Army Corps of Engineers for this awe inspiring feat, responsible for the free movement of more than 7,000 vessels each year!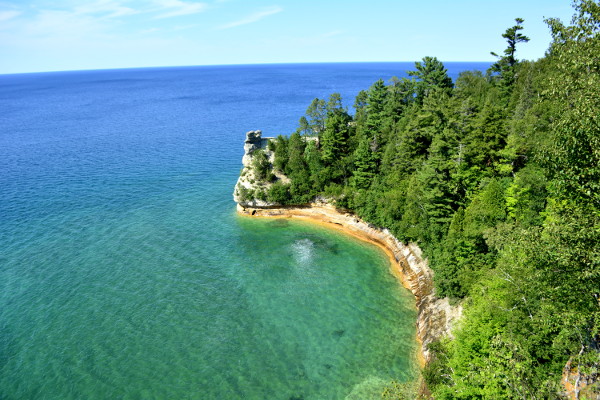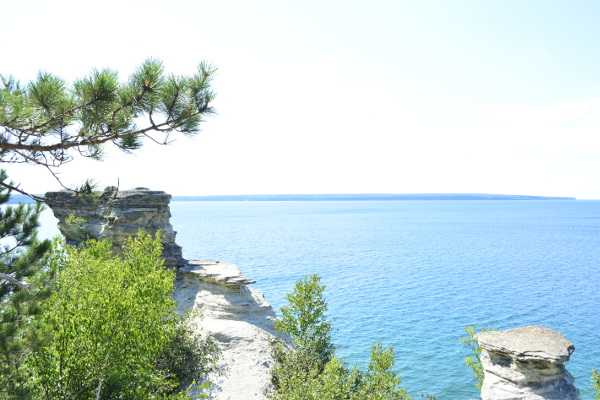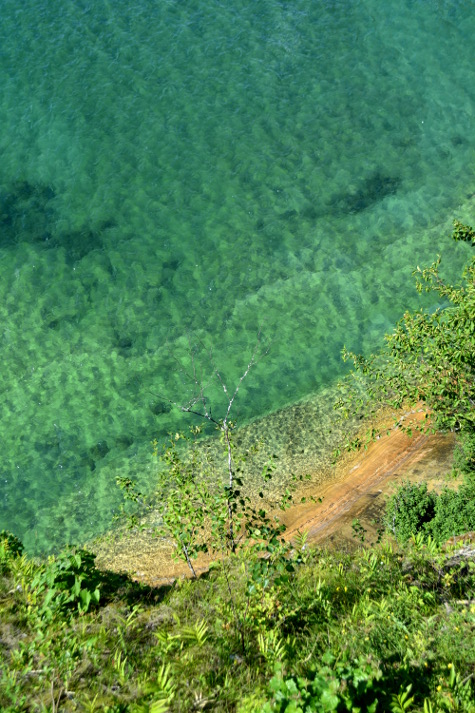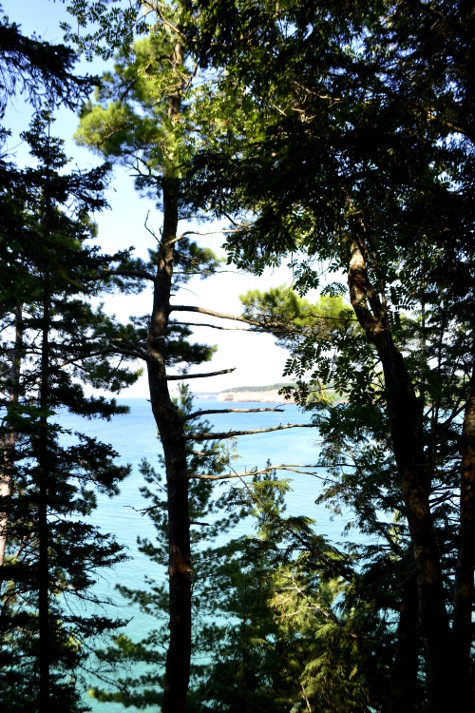 The Pictured Rocks remind me of the turquoise waters along the coast in Nice, France. It is hard to fathom that this is not some vast ocean, but Lake Superior, and not terribly warm.
A final glimpse of our lakeside paradise. On to the Western U.P.