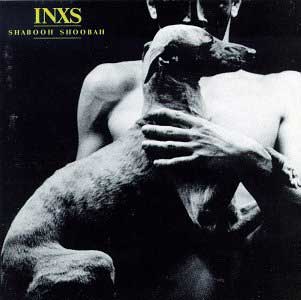 Isn't this a beautiful cover?  When I first saw it, mind you, this was on a cassette tape, so the image wasn't terribly large, I thought it was a photograph of an exquisite sculpture.  Only upon further inspection did I learn man and canine were made of flesh and bone.  I find it both incredibly sexy and tender at the same time.  The man has beautiful shoulders and arms, and the dog – a Greyhound or Whippet? is awfully sweet and poised, paws balanced just so.  Definitely on my top ten list for album covers.  Yes, definitely.
In keeping with yesterday's post, I thought I would give a full blown Spotlight on this, my favorite INXS album.  I first heard "The One Thing" and "To Look at You" when I watched Reckless with Aidan Quinn and Darryl Hannah way back in 1984.  Save these two songs, and especially "The One Thing," I have no recollection of the film, but the music is enough for me.
I know that taste in music is highly subjective, but I really feel like this is a timeless classic.  While it does bring back many memories, the music never seems dated to me.  INXS never went over the top with gimmicks or synthesizers, so there are no Flock of Seagull moments while listening to it.  Not that the FOS were bad, but when you listen to them now, you know they are an 80's band.
One of the finest and exceedingly rare occurrences in music is to have an album where every song is a gem.  Shabooh Shoobah is one such example.  It starts with "The One Thing" and keeps up the pace with clever lyrics, Michael's very sexy, sometimes tender, and powerful voice, and ends with the crescendo "Don't Change."  It is really difficult for me to choose favorites because I have a really hard time hearing the end of one song without longing for the next, so I will tell you my favorite lines from each song:
"The One Thing" – The way you move soft and slippery, cut the night just like a razor, rarely talk and that's the danger.
"To Look at You" –  I understand, I sympathize for a day dream, fairy tales and I love you
"Spy of Love" – Standing above this moment, listening to all I say, the spy of love will track me, will catch me.
"Soul Mistake" – Promises are carved out of lust, with a fire in the heart, that burns without regret, I vow to play the part.
"Here Comes" – Here comes my kamikaze, here comes God's top ten.
"Black and White" – Got a need inside and I don't know why, it's a strong feeling that grows and grows.
"Golden Playpen" – Night club, ice cubes crackin'
"Jan's Song" – Friends won't argue, friends don't care, now is the moment to get out of here.
"Old World New World" -Natives wearing turquoise and silver, dirty dogs barking in the distance, ooh people of a thousand tongues, I'm learning the primitive rites.
"Don't Change" – Don't change for you, don't change a thing for me.
Oh my goodness, twenty-five years later and I still love it!