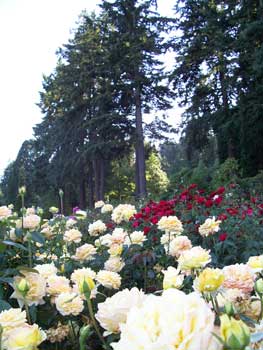 I am a thrifty gal.  I love getting a good deal, or even better, something wonderful for free.  I don't mind if I have to work a little for it either.  For instance, last fall, when everyone realized, gosh, this really is a recession and tightened their belts, the Willamette Week started running a series of listings for free, discounted, and cheap goods and services in a column called Cheapskate.  The first, at least that I participated in, was a discount at Music Millennium, one of the top rated independent music stores in the country (lucky us!).  For singing at least one minute from any song in the Sound of Music, I would get a 15% discount.  I could have gotten a whopping 25% off my purchase by showing up in a bikini, cowboy hat, and boots and singing any Johnny Cash tune, but totally lacked the cojones for that one – maybe next time.   Though I practiced for half the afternoon, I failed to remember the opening lines of "My Favorite Things," so nervous was I.  Thankfully, I recovered, pride undamaged, and walked out proudly with my assorted CD's.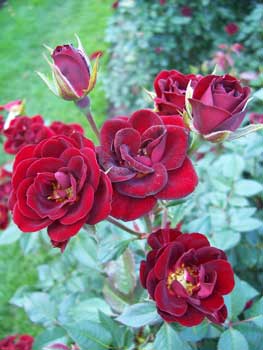 So, as you might imagine, I keep a pretty close eye on the Cheapskate column.  Much to my delight, last week had a listing for a free showing of Vicky Christina Barcelona at the Washington Park Amphitheater, preceded by live Spanish music, of course.  I called the sweet hubster, and we made plans to go, go, go!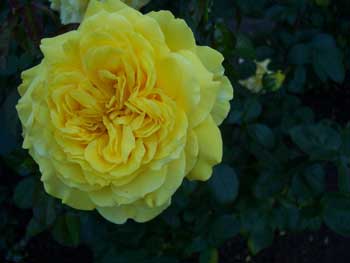 As it had been a while since we'd been to this neck of the woods (last year with my Uncle Chris), I was eager to wander around, take in the heady scent of roses and the beautiful views.  As I mentioned earlier this week, I no longer have roses of my own but remain utterly delighted in their presence.  That there could be such a wide variety of colors, scents, and sizes, all in one magical place, is truly marvelous.
Then there was this light, beautiful and bright, filtered through the evergreens.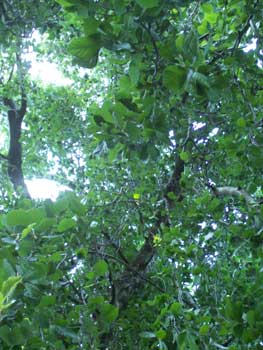 Even more special was this tree.  I wish I knew the species, lovely, like a full skirt of weeping branches and fluttering leaves, but not a willow.  This photo is me and my camera lens looking up her verdant skirt.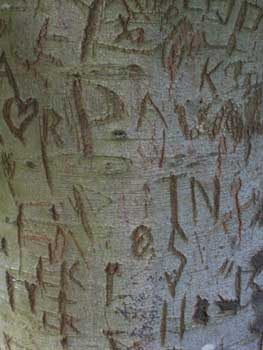 Covering our sweet lady's torso, and quite hidden by her skirt, was this "secret" assortment of carvings, years upon years of people wishing to make a permanent mark upon the earth, however small.  Though I would never have the heart to cut into a tree's flesh like this, there is something beautiful about it, humbling.  Look at all the people here before you, but for a short time and then gone, as you shall be soon.  Where are they now?
Back at the blanket and my bestest Buddy.  We sat here, quite happily listening to songs, acoustic and hauntingly lyrical (I'm sorry I can't remember the name of the band, oy!), him working his Rubik's cube, and me reading and laughing along with Christopher Buckley (Losing Mum and Pup) as his parents passed from this life into the next.  Though the text was quite funny at times, I found myself cuddling closer and closer to the man I love the most, hoping our days together stretch far into the future.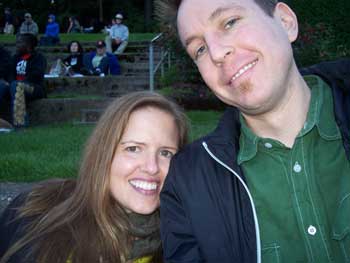 Then it was time for the movie to start.  There was a chill in the air, and we wrapped ourselves up tightly in the blanket (do you like sausage?) and laughed and sighed, awed by the stunning landscapes, beautiful people, the story as only Woody Allen could tell it, and a magical night beneath the stars.
Comments are now closed.