Hi everyone –
Thanks so much for your kind words over the past few days.  I am feeling better.  Sometimes meltdowns are necessary, yes, totally.
Now, as the Monty Python boys would say, "For something completely different," or, maybe "No one expects the Spanish Inquisition!"
I was visiting the Angry Chicken blog the other day and she mentioned Land's End and how, now that she's old enough not to care, she can say how much she likes their Canvas line.  It's funny, because I had been contemplating a post about my love for all things Land's End for quite some time, but didn't have the balls to put it out in public like that.  With all the positive words I read in her comments, I decided to declare myself.  Here's why: I am a classic preppy girl at heart, and they really deliver in this department, and at  fantastic prices.  Sign up for their deals online and you get free shipping (not all the time, but I haven't had to pay for it in quite a while) and some pretty sweet discounts (25% off sometimes – hard to beat).  Men's TALL sizes – the hubster need not expose his belly to the world!  I also love that you can buy through the catalog and return items through your local Sears – no return shipping!  Their customer service is awesome, via phone or chat online.  They also truly believe in their products, don't have those awful final sales, and will take items back any time, like forever. I'm sold.  Here's a few photos to show you.
As well, any time you decide to watch America's Next Top Model and want to laugh at some of the awful looks the ladies give, know that this standing in front of the camera business is hard.  Oh goodness, did I ever take a lot of pictures and resorted to goofy faces out of a singular desire to get it done before the sun went down.  Sheesh.
I'm wearing the Canvas line Cotton Lawn Shirt.  I love it so much that I have it in Navy, too.  The pants are Women's Heritage Chinos in Navy.  The button detail is fantastic.  I also adore the fact that they will hem the pants to the length you want at no extra charge.  I love short pants, and I cannot lie!  I opted for a 26″ inseam.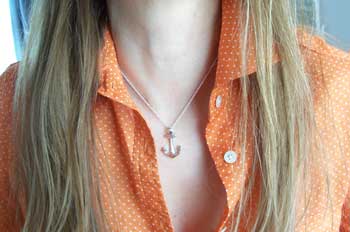 The cute anchor necklace.  I am also a rather big fan of nautical themes.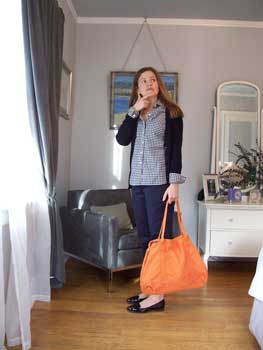 I'm wearing my worst inquisitive look, but whatever, the shirt is Canvas Gingham Poplin in Navy.  Navy cardigan from J. Crew last year.  Bag is the Garment Washed Ragtop Tote.  Shoes Cole Haan.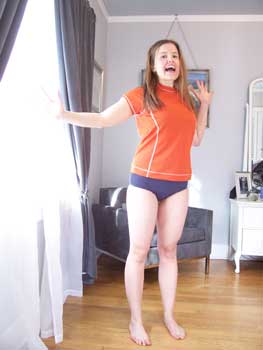 I'm screaming in horror at what I'm doing!  Short Sleeve Aqua-Terra Rash Guard Shirt.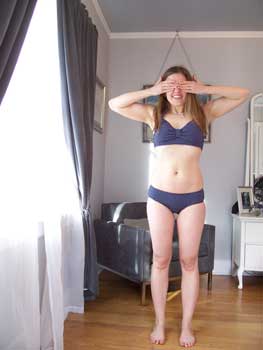 All the skin is so bright!  Beach Living Mini Dots Bikini.  It makes me feel like a 50's bombshell…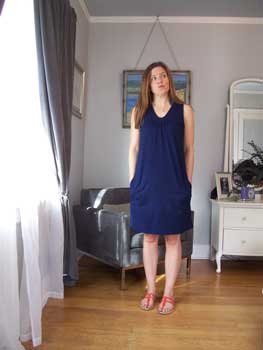 Sleeveless Jersey Cover-Up in Navy.  It has pockets!  The sandals are from last year.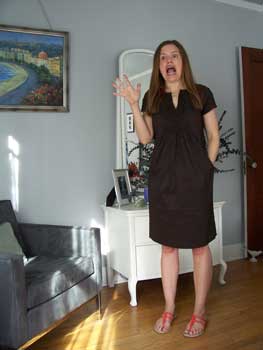 Enough already!  Shirred Front Dress.  More pockets!
Tags: Shopping
Comments are now closed.