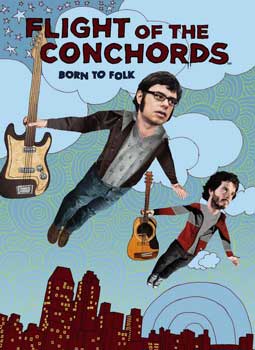 Howdy Neighbors.
It was kind of a low energy week around here (but we're working on the B-12 intake), so much of our time was spent in front of the boob tube.  We watched LOST (my favorite episode thus far), Flight of the Conchords Season Two, Disc One, Syriana, and far too much Entertainment Tonight.  I am slightly embarrassed to say how much I keep thinking of Sandra Bullock, the man who shall not be named, and the tattooed ladies.  She seems like such a nice person, so giving and thoughtful of others.  To be treated that way is pretty low-down.
So, we needed something funny in our lives with all these clouds and sleepiness and whatnot, and were definitely not disappointed by Flight of the Conchords.  For those of you who haven't seen the show (Mom – you probably want to skip it), it follows the exploits of Jemaine and Bret (sounds like Brit), an adorable folk-comedy duo from New Zealand as  they scrape by in New York city.  They get robbed, form a gang, and consider prostitution as a means to get by, because the singing just isn't paying the bills.   Their "manager," Murray, really a consulate worker, is more of a hindrance than a help, but they can't seem to get by without him, either.  The highlight of the show is their wacky way of inserting their music into the story.  The hubster and I nearly cry from laughing so hard at songs like "Too Many Dicks on the Dance Floor," and "All the Ladies Love My Sugar Lumps."  Good fun.  I'm kind of sad that this is the last season.  That being said, good for Bret and Jemaine for deciding when to say when.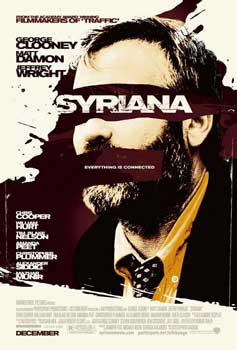 For our more serious side (much more), we watched Syriana.  It is a great thriller that examines, through four parallel stories, the often times corrupt relationships between the United States and the Middle East, the desire for power and money, as well as the allure of radical Islam –  all through the lens of the oil industry, of course.  It has a great cast (George Clooney won an Oscar for his role) and a stomach churning story line that will break your heart and stoke your fury.  For those (like me) who don't tolerate physical violence, you'll want to watch it with someone who can tell you when you can uncover your eyes, unplug your ears, and stop chanting la, la, la to yourself when someone gets tortured.  It's a pretty fascinating look at how we all think we are doing what is right.
Tags: Movies
Comments are now closed.