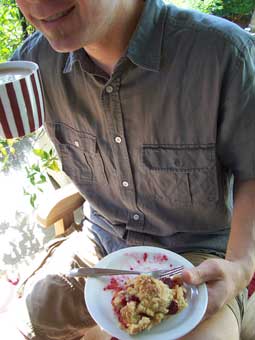 Good morning everyone!
I hope everyone had a lovely holiday weekend.  I sure did, which would account for not posting on Friday.  The hubster had a three-day weekend, and I saw no reason not to join the fun.
It was pretty hot here, at least for me, the I don't like it above 85 degrees gal, so we spent a lot of time in shady spaces – like the front yard of Bridget and Eric's house, sipping cool drinks and noshing on cherries, as well as prostrate on the back porch, enjoying the breeze and the scent of jasmine.
As you can probably deduce, I also spent some time in the kitchen, making the scrumptious coffee cake Gregory is enjoying with his coffee.  I'll post the recipe at the end, as I've got something neat to show you first.  Take a look.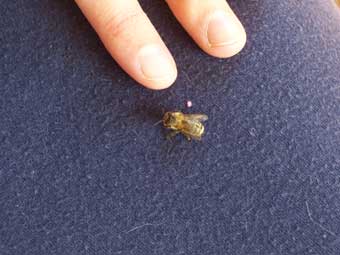 I've got a little friend!  I had been outside observing the bees as they devour the nectar from the lavender.  I love to sit right on the ground next to the plants and watch them zip from blossom to blossom, all the while enjoying the buzzing symphony of happiness.  I noticed this little guy about a half an hour after I had come back inside.  I think it was on my skirt the entire time because I would have noticed a bee flying around the house.  Maybe I am entirely deluded (it wouldn't be the first time), but I honestly believe that the bees like me, too, and this fella was, quite like I do with them, just observing me in my habitat.  Bees are very smart, after all.  Besides, even if it isn't true, it is still pretty neat to  think that the little guy was clinging to my skirt the whole time.
So the recipe for the coffee cake and another confession about sugar.  I wish I could say I haven't been eating much, but that would be a bald-faced lie (such an odd expression).  Truthfully, I've been eating it about twice a week.  After my diagnosis, I decided to focus on that, not sweets.  Once I've recovered from surgery, working on my sugar addiction will be at the top of my to-do list.
Fruity Coffee Cake
-adapted from the Better Homes and Gardens Cookbook 75th Anniversary Edition
1 1/2 – 2 cups fresh or frozen fruit (I used two diced apricots and about 1 cup fresh raspberries)
1 1/2 cups flour
3/4 cup sugar
1/2 teaspoon baking powder
1/4 teaspoon baking soda
1/4 cup butter
1 egg, beaten
1/2 cup buttermilk or plain yogurt thinned with milk
1/2 teaspoon almond extract
Combine the flour, sugar, baking powder, and baking soda.  Cut in the butter until it resembles coarse crumbs.  Make a well in the center, and set aside.
In another bowl, combine egg, buttermilk, and almond extract.  Add this mixture, all at once, to the flour mixture.  Stir just until moistened.  The batter will be lumpy.  Spread half of the batter into an ungreased 8″ square pan.  Spread the fruit over the batter.  Drop remaining batter in small mounds over all.  Top with the streusel mixture.
streusel topping:
1/4 cup flour
1/4 cup sugar
2 tablespoons butter
Mash together with your fingers until the mixture holds together.  Sprinkle over cake.  Bake at 350 degrees for 40-45 minutes, or until golden and a skewer comes out clean.  Serve warm.
Enjoy!