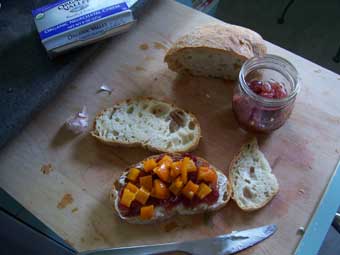 Okay, so my cutting board isn't looking too pretty right now.  It is berry and cherry stained, but please don't let it deter you from making this sandwich because it's delicious.  If you're on the fence, I'll even provide you with a testimonial: I didn't know how well this sandwich would go over with the hubster (sometimes he's picky), so I brought out a sample with the intention that he would take a bite and I'd eat the rest.  I interrupted him while he was trimming the yard, which didn't make him happy, but his face lit up once he tasted it.  "This is good!"  he exclaimed, and then proceeded to eat the rest, even though I told him it was mine.  Sharing isn't always his forte (he's an only child), but it was a good sign and a source of laughter.  Hopefully you'll like it, too.
Sliced bread
Bell pepper – roasted, peeled, and diced (broil until browned all over, use the technique in this recipe, or buy roasted peppers in a jar at the store)
onion marmalade (recipe below)
cream cheese, chevre, or a spreadable sheep's milk (Valentine from Ancient Heritage is awesome!)
Onion Marmalade (adapted from the July 2009 issue of Sunset)
1 tablespoon each – butter and extra virgin olive oil
2 large red onions, thinly sliced
2 large cloves garlic, minced
1/8 cup sugar
1/2 teaspoon salt (I used my favorite Alder Smoked Sea salt from Mountain Rose Herbs)
1 teaspoon black pepper
1/4 cup white Balsamic vinegar
1/4 cup white port or any other dry white wine
Melt the butter and oil in a large heavy frying pan over medium heat.  Add onions, garlic, sugar, salt, and pepper, stirring well to combine.  Cook until onions have softened and browned slightly, about ten minutes.  Add the vinegar and wine.  Cook, stirring occasionally, until most of the liquid has been absorbed, and the mixture is soft and sticky, about five to ten minutes.  Allow to cool.
Now make a sandwich.  The marmalade would taste great with a sharp cheddar and turkey or roast beef, too.
Enjoy!