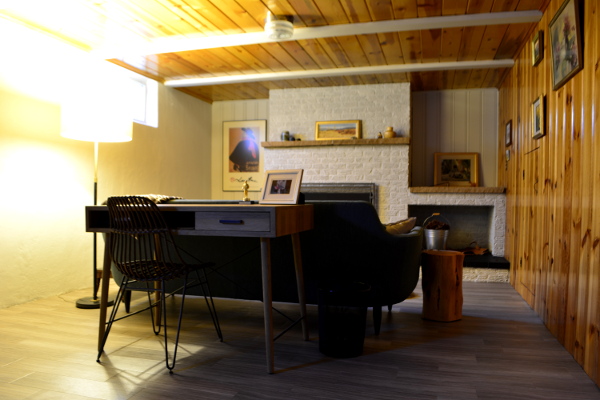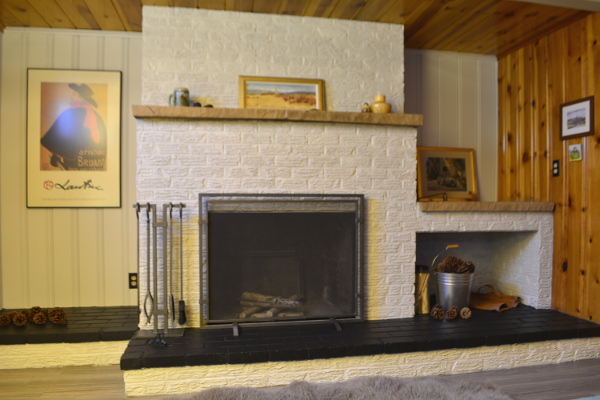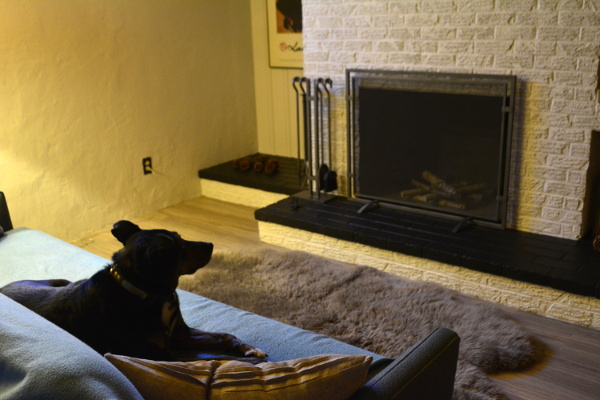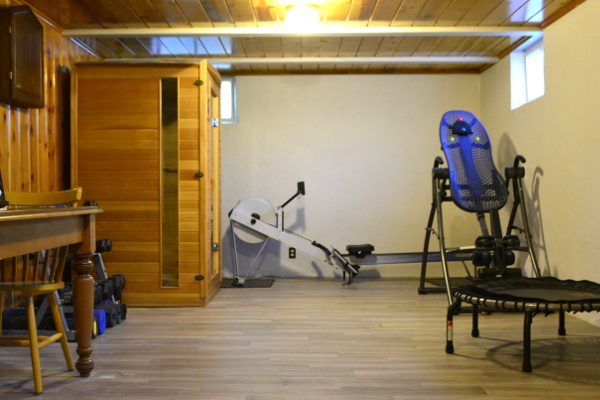 Hello! Welcome to wonky lens land. I really do need to get on this camera situation, and pronto. Ugh. I am really torn, as I like my camera and know it so well, but it would also be nice, maybe, to try something new?
In that new department, how's about the paint? It only took three weeks to finish, but goll-ee, is it ever an improvement. I failed to take before photos, so use your beautiful brain to summon an image of a dark chocolate brown with crayon green accents, and you've got the main section. Then, for the now black plinth area, change the dial to maroon, with a huge chunk of brick missing (which Greg repaired) from some previous owner calamity. The painted panel was the color of the east wall. All in all, dark and gloomy and not terribly well matched to one another.
But, oh, how I like it now. Juniper is going to have to share her couch with me more frequently, as the space is so much more inviting!
Turn your back on the new beauty of the fireplace, and you've got the workout and sauna area. We replaced the floor when we moved in, and painted the beams this time round, but, as with the bathroom below, had never shared before, and are a a five-day-a-week when not painting part of our vida loca. I am particularly fond of lifting five pound weights while dancing on the rebounder. Just in case you were wondering.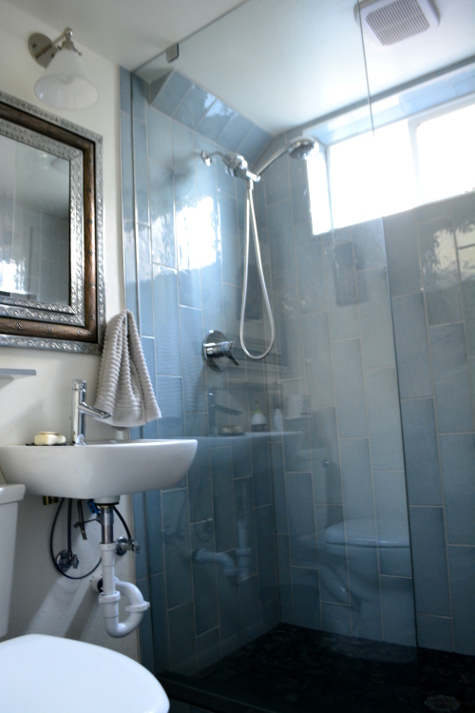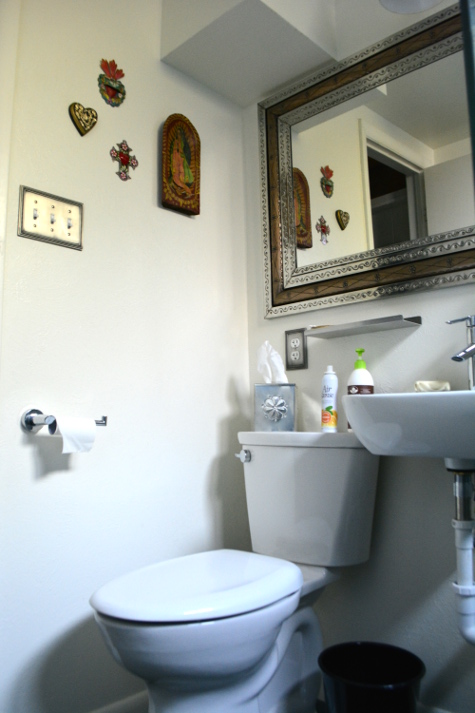 The bathroom is awfully bright for a basement, which makes up for being rather diminutive. Gotta love the light of the high desert!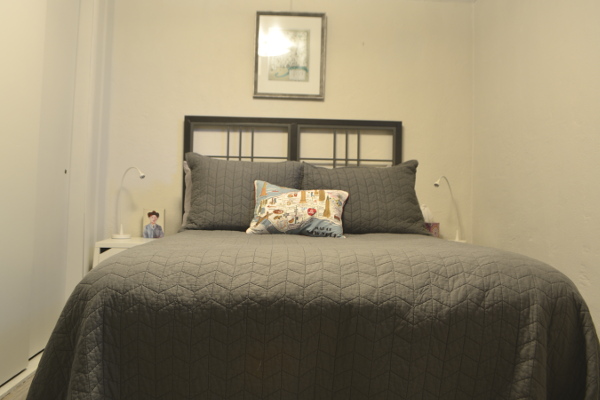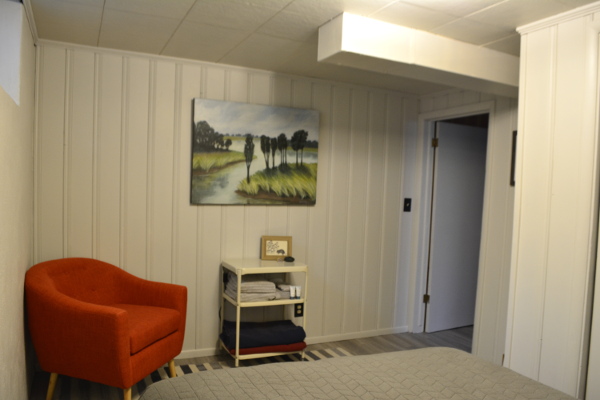 The guest room, also in the basement, and kind of like a suite with the neighboring bathroom, is super cozy without feeling cramped. I had wanted to paint the panel and closet doors for ages, basically since moving in, but the thought of sanding in all of those nooks and crannies was so daunting, I put it off. Then, while watching some home improvement show, heard about Liquid Sandpaper/Deglosser (we used Klean Strip), where you take a damp cloth, saturate it with this liquid, rub in a circular motion on the varnished surface, and wait for it to dry before applying paint. I mean, seriously, it was so, so easy.
Now I have a lovely color on what was once a very maple syrup hued and not so buena vista. Um, yes!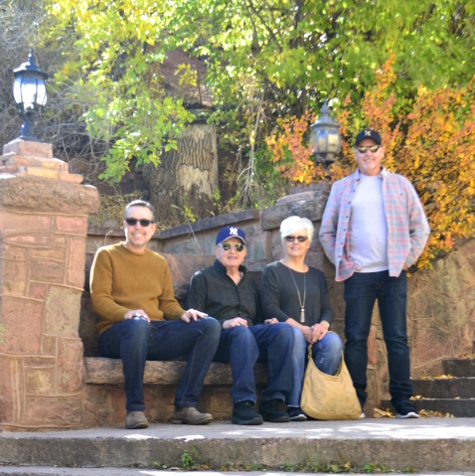 Damn lens again, wah! It only regularly focuses properly at the bottom of the frame, so you are missing out on some super crisp stair imagery I cropped out. But we were together in Manitou Springs, with my parents and Uncle Chris, and it was such a fun day, I had to share.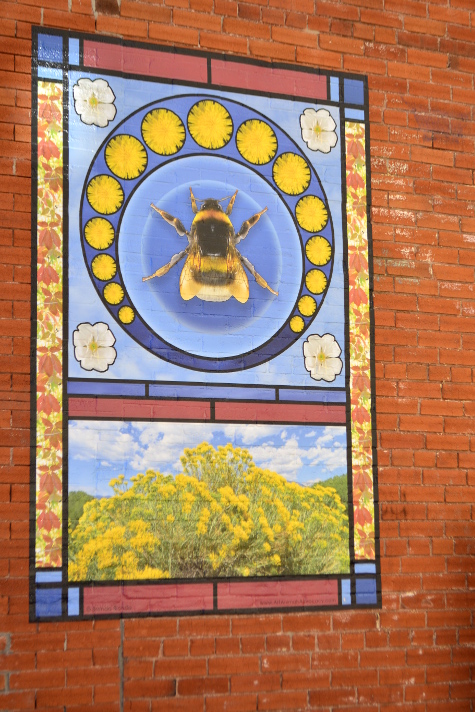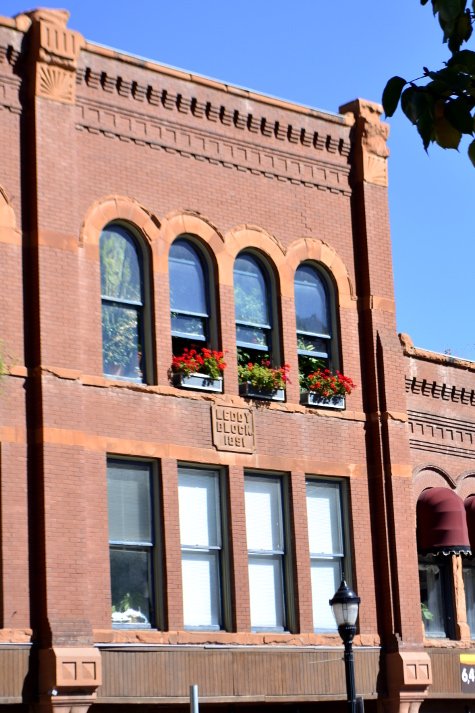 More Manitou Springs! At least these are clear.
Happy Monday…
Art + Craft
Blogroll
Gardening + Nature
Healthy
News + Opinion
People
Thoughtful
Archives