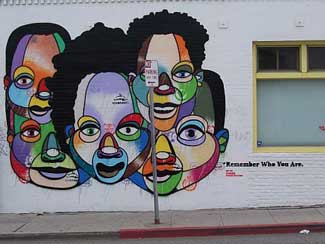 Normally I am a chatty gal, but for the past few days, I have felt a bit less talkative and more introverted.  I think the characters in my new novel (working title: Die Sleep Run Dance) are working hard to find themselves and me in the crowded space that is my mind. 
As a result, I don't have a lot to say here, so here is a cool photo I took a couple of years ago in Venice, California and a summer play list that I'm programming onto my I-Pod.  Happy Listening!
Soul Coughing – "The Idiot Kings" – get up and dance!
Cake – "Nugget" – I love the irreverent lyrics
Big Head Todd and the Monsters – "Leaving Song" – Good memories – Gregory and I saw them at Herman's Hideaway on South Broadway in Denver sixteen years ago!
The Eagles – "Take it Easy" – so summery…
Seal – "Violet" – chill out.
INXS – "Don't Change" – I love INXS – my first concert at Red Rocks!
Elvis – "A Little Less Conversation" – a little more action.  Summer is all about the action. ;)
Bob Dylan – "Don't Think Twice, It's Alright" – perfect mellow song for a warm summer evening.
Blair – "Have Fun, Go Mad" – more dancing…
Prince – "I Would Die 4 U" – and more…
Peter Gabriel -"San Jacinto" – dry, hot, summer song.
The GoGo's – "Head Over Heels" – good memories of singing with my junior high pal Denice Romero.
Gem – "They" – light, airy, children singing.
Led Zeppelin – "Kashmir" – get in the car and drive, pronto!
Beastie Boys – "Jimmy James" – get your groove on!
Alpha – "Sometime Later" – fall in love, again.
Charles Trenet – "Que Reste-t-Il de Nos Amours?" – remembering it all.