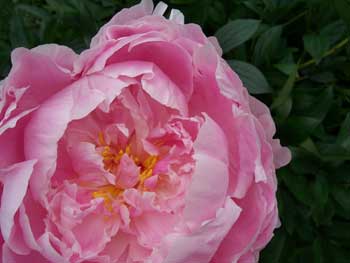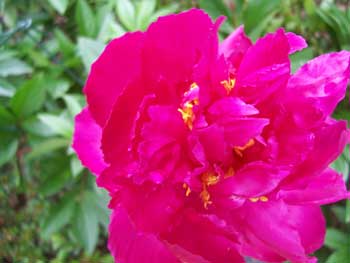 Well friends, I have what is surely the last of the peony photos this year and a broken record alert!  Aren't they pretty?  Aren't they pretty?  Well they are, and these two smell quite lovely, too.  Yes, yes they do.  We also managed to get two dry days in a row to enjoy them, but the clouds are rolling in, and I'm pretty sure that means Mr. Rain will be up to his old tricks in no time, which is okay.  The little break of sun was enough to tide me over until next time.
I have no clever segue way to what comes next.  I've been thinking a lot about what it is that I want and how to get it.  I came to a conclusion that probably should have been obvious, but wasn't, but now that I've made it, I feel as though I've been hit over the head with a hammer in a Bugs Bunny cartoon.  Yet, instead of stars, I am seeing what I do with greater clarity than ever before.
I have never called myself a writer.  I have always said, "I've written a book," or "I' write a blog."  In some ways, I didn't want to pigeon-hole myself in the "I am not what I do" way because I feel I am so much more than a single word.  I also didn't think I deserved the title of Writer without being published.  Yet, in this way, I believe I have been selling myself short, for who will believe I am a writer, especially one who is worthy of publication, if I don't?  It also diminished my work, made it less important.  Well, dang it, it IS important, even if only to me.
So, a change.  A "this is it" moment:  I, Colleen Sohn, am a writer.  Gosh, I got weepy typing that last sentence.  I am a writer.  I wrote a novel that I hope to get published one day.  I write a blog.  I write poems.  I dream up worlds.  Words dance in my mind and through my finger tips.  They are alive, just like me and you.
That felt good.  Thanks for reading.  I love sharing my writing with you!
Comments are now closed.