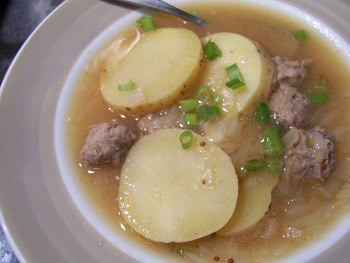 Well my pretties, we are knee deep in soup season.  We've had all sorts around here lately:  butternut squash, tortilla, white bean, chicken noodle, and this one here, German Potato.  There's a lot of ingredients down there, but it is super easy and delicious.  It is unlike any soup I've had before, sweet and sour, with just a little kick.   It  begs to be eaten with pumpernickel rye slathered in butter and a glass of lager and maybe an Oompah Band playing on the hi-fi.  Adapted from Ray L. Overton's Winter Soups, a book I highly recommend, if you can find it.  I bought mine way back in 1998!
German Potato Soup
1 teapoon olive oil
1 large onion, chopped
2 stalks celery, thinly sliced
2 cloves garlic, chopped
1 1/2 pounds medium sized new potatoes, thickly sliced
2 large bratwurst sausages
2 tablespoons + 1 teaspoon apple cider vinegar
2 tablespoons + t teaspoon coarse brown mustard
1 teaspoon caraway seeds
1/4 teaspoon allspice
1/4 teaspoon ginger
1 tablespoon brown sugar
1/8 teaspoon cayenne pepper
4 cups beef stock
2 tablespoons chopped chives or green onion
In a large soup pot or dutch oven, saute the onion, celery, and garlic in the olive oil.  Cook until the onions are soft.  Add the remaining ingredients, except the chives or green onion, and simmer for twenty minutes.  For the bratwurst – you can either add it whole and slice it after it's cooked (don't burn yourself!), or slice it beforehand, your choice.  Garnish the soup with the chives or green onion and serve.  If you'd like to gild the lily, fry up some bacon and sprinkle over the top.
Enjoy!
Tags: Cooking and Baking, Recipes
Comments are now closed.