As my cutie pie neighbor Keirnan (age five) might say, "She's up to her old tricks."  He'd be right, too.  I am up to my old tricks, loving the offbeat films where the actors are decidedly not up to theirs.  It is so refreshing!
The hubster and I saw Greenberg this past weekend.  Finally, finally something I was interested in seeing at the Academy.  I have been waiting for ages.  Seriously, I cannot remember when I was there last, and it totally bums me out.  I love movies.  I love sitting in movie theaters.  I love watching people file in and search for the perfect seat.  I love the moment the lights dim and the action starts, all the while munching on buttery popcorn and Reese's Pieces, despite their absence of nutrition.  For the film is the sustenance, the essence of life, moments in darkness that ultimately illuminate.
I digress.  Greenberg, save two, um, cold(?) sex scenes, yes, cold, is one of those train wreck type films.  I could not look away, yet my heart kind of ached to.  It is the story of Roger Greenberg: broken man, letter writer, vest wearer.  He's come to Los Angeles to house sit for his brother's family after suffering a mental breakdown.  He's meant to build a dog house, take care of its future occupant, Mahler, and, as he states rather explicitly, do nothing else.  It doesn't quite work out as planned, as he immediately has feelings for his brother's assistant Florence (a pitch perfect performance from Greta Gerwig), the dog gets sick, and he generally makes an ass of himself, though he puts the blame squarely on others.  It's a great story about loss, starting off on the wrong foot, and the way we cobble our lives back together.  Perfect in its imperfection.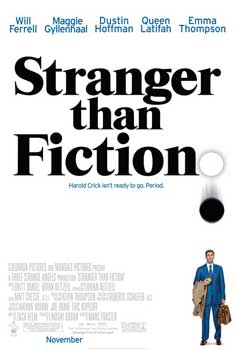 Will Farrel is Harold Crick, a boring and friendless IRS agent who suddenly starts hearing a voice.  A voice that knows him well, is never wrong, and clearly states that he is going to die.   What ensues is a beautiful transformation – from a numbers man ticking away the hours to a human being truly living and loving life.  So very, very good.  It makes me want to be a better writer.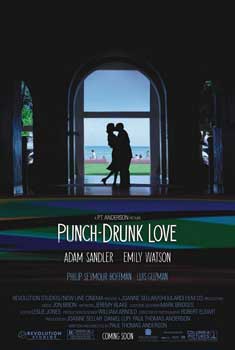 This is Paul Thomas Anderson's fantastic and exhilarating art house version of Adam Sandler.   As much as I like movies like 50 First Dates and Mr. Deeds (Are you surprised?  Do you underestimate my sneakiness?  They're funny!), I sure wish he would make more movies like this.  Sandler plays Barry Egan, intense, lonely, incessantly badgered by his annoying and domineering sisters, he is constantly on the verge of rage and violence, and utterly powerless to stop it.   When a woman unexpectedly enters his life, there is instant chemistry and mystery.  What will he do?  Will this end badly?  What about that awful guy at the phone sex place?  Finding out is a great and scary ride.
This last one could actually be tied with Vampire's Kiss.  Have you seen that one?  Nicholas Cage (circa 1988) plays a guy who thinks he's been bitten by a vampire and acts accordingly, sporting fake teeth and all.  Which only makes me think of Chris Cooper's teeth in this movie, oy vay, creepy.  This movie is strange, smart, and beautiful.  Nicholas Cage plays the Kaufman brothers, so unlike any character I have ever seen.  Fearful, weird, out of shape, paranoid, balding, and obsessed, yet likable.  The kind of underdog fellas you root for.  Besides that, there's Meryl Streep and Chris Cooper.  Who could ask for anything more?
Tags: Movies