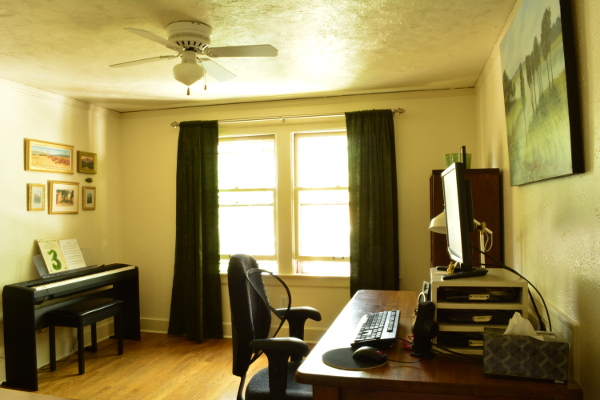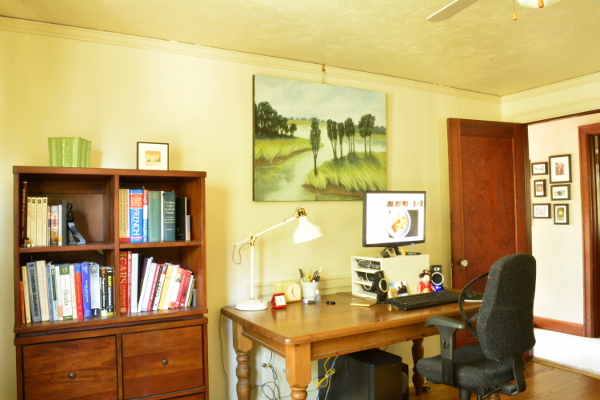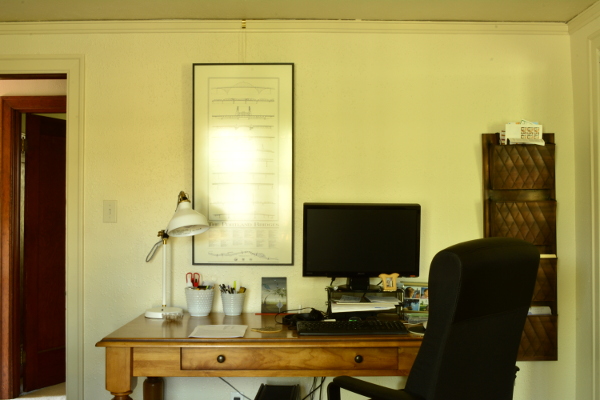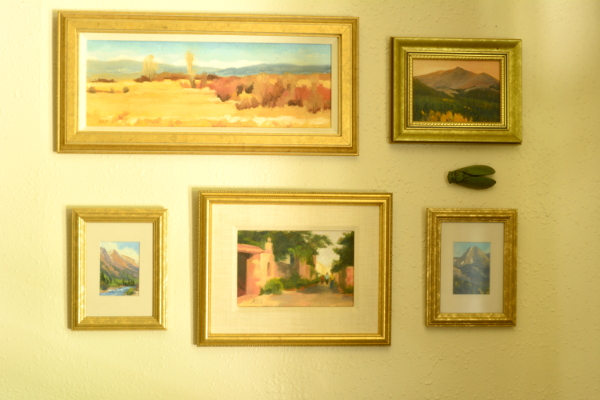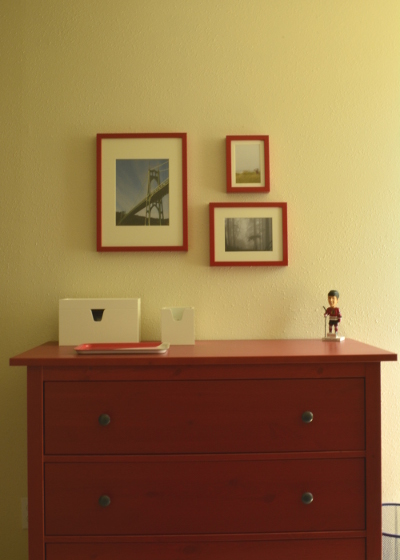 Hey there! Just in case you were wondering what happened to me, this is it! We redecorated the office and guest room, and it occupied much of our waking (and my sleeping) hours for the last month. We'd been meaning to do it for ages, but you know how it goes: time; money better spent on food, shoes, an evening out; no real desire to spend weekends attached to paint brushes and rollers. Yadda, yadda, yadda, a few years go by.
A fire was finally lit under our arses and here we are, pretty snazzy! I should also mention that we cleaned out the house, top to bottom, in the process. Furniture, books, knick-knacks, clothes, the random and sundry, all in neat piles in the basement waiting for a sale and trips to the thrift store and Powell's.  My pocketbook is also happy to report that the only new items in the office are the desk lamps (from IKEA) and the curtains, which I made because no one had the color I wanted. I shopped the house for the rest. Hoot and holler!
And then there's the color! We'd had a peachy-orange before and really liked it for a time. As soon as we started rolling this on, we decided it was kind of psycho and felt an enormous sense of relief and calm at the new color, winter wheat by Benjamin Moore, if that's your thing. Cream fleece is the trim color, just a shade darker.
We spent a bit more in the guest room, and mostly at IKEA (that place!), chest, organizers, tray, picture frames (filled with my photos!), curtain, lamp, bedding. Though that toss pillow is from Target, and the bedside table was $1 at a yard sale eons ago. We couldn't be more pleased with how it all turned out!
And now, a break for fine art: The big painting above my desk and the small square on top of the bookshelf are by our super talented friend Jamee Linton. The three mountain paintings in the assemblage are by Tim Deibler. The wide landscape and the center painting are by Ann Hutchinson. The cicada was purchased on vacation, somewhere in the south of France, artist unknown.
…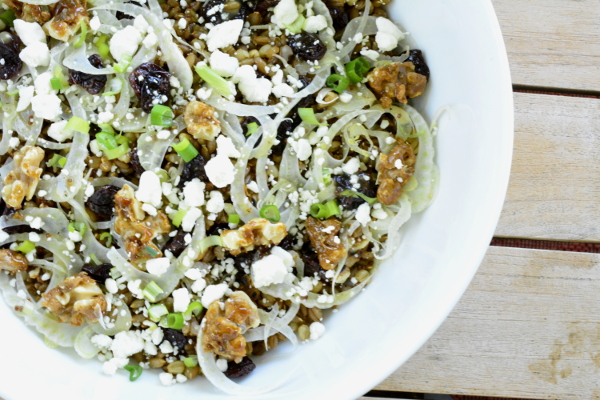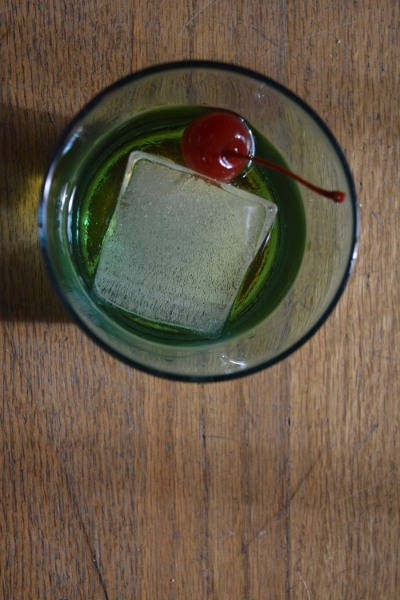 But wait, there's more! Imma break it down…
Which I got from this fab song of my youth. Bub, are you reading? You know you are the reason for my love of Eazy-E!
The salad: farro, shaved fennel, green onion, dried tart cherries, toasted walnuts, feta cheese, orange & sherry vinaigrette.
The cocktail: Ransom's Old Tom Gin and Galliano. Heavy on the gin…
The sound: Jack White. That voice, guitar, look, the man captivates me. Turn it up.
The love: two of my favorite people are getting married! Congratulations Matt & Kelly!
Art + Craft
Blogroll
Gardening + Nature
Healthy
News + Opinion
People
Thoughtful
Archives