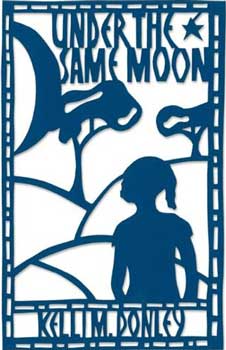 Exciting news everyone!
My friend Kelli, of African Kelli, has just had her first book published, and last night, her very first reading.  I can only imagine the butterflies, joy, and magic in Phoenix!  A dream come true.
This moment is even more special for me because it gives me hope that my book will one day be out there, too.  As well, my good friend Colleen designed the cover, and rather beautifully, don't you think?
I am hoping we can all make it a bit sweeter by buying our own copies (mine is on the way).  Let's get her to the top of the Amazon list!
Under the Same Moon, by Kelli Donley
Abena Udate was selling mangoes on a humid market day in her Mozambican village when she caught the eye of a wandering foreigner. Kidnapped and brought to live in suburban America, the African teenager struggles with the glaring cultural and social differences of her new life. Abena is expected to play along with her kidnapper's story — she's just another hungry child plucked from a desolate country and saved by foreign adoption — or else. As her younger brother Kupela searches for clues to explain her disappearance, Abena must decide whether to remain with a family she doesn't love for a life of luxury, or find a way home to those she loves in a world of despair.
Support an emerging writer – buy it here!
Tags: Books
Comments are now closed.
Art + Craft
Blogroll
Gardening + Nature
Healthy
News + Opinion
People
Thoughtful
Archives