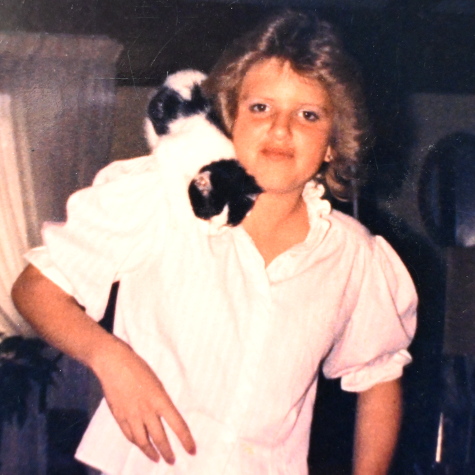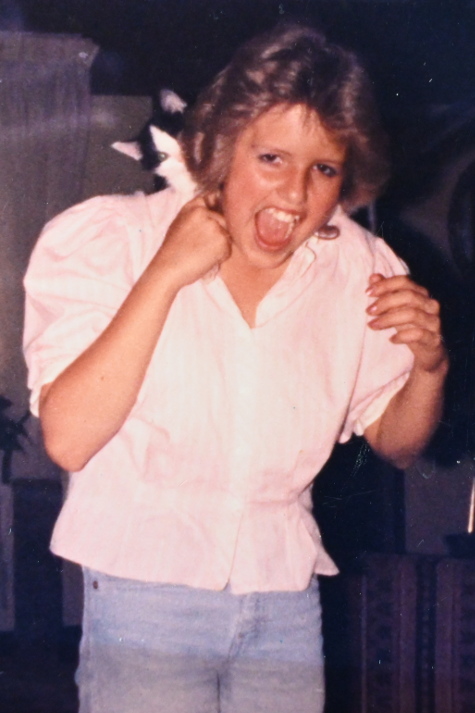 Thirteen year-old Colleen. It is 1984. My hair is feathered. I'm wearing pink eye shadow and nail polish, while our cute kitten, Mitzi, uses me as her personal jungle gym.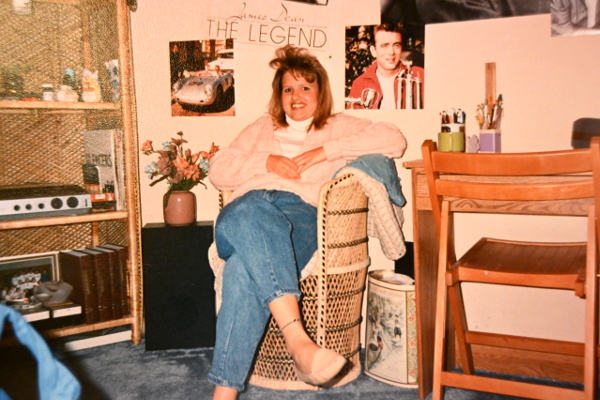 In My Room, junior year. Sorry, Beach Boys. How about those bangs? I was a major consumer of Suave hairspray and all things James Dean. Please note the cool hi-fi, secondhand and bought with my own money. I could crank it, peeps.
Mid-way through senior year, I ditched the bangs, a la Belinda Carlisle. It was a major compliment when I first met my friend Barry (are you there?), and he told me I looked like her. I love that these are still my signature colors. Tried and true.
And now, for the real reason we are here. Sometimes, even an enjoyable task, like reminiscing about favorite songs from your formative years, can feel incredibly daunting. Where to begin? What do I include? What don't I include? It is so big and so important. Seriously. Music, and particularly from this era, has been such a part of my identity. I took my first steps toward adulthood with these notes in my ears, often with friends, but mostly on my own, in the solace of my bedroom, and later, the sacred space of my 1981 Toyota Celica, the very first place I could be truly alone. Nothing here belongs to another, in that joining the crowd to "fit in" fashion. Each was chosen intentionally, specifically, for my own joy or sorrow, singing at top of voice, often while dancing.
With a handful of exceptions, I owned, mostly on tape, each of these bits of wonder, alphabetized (of course!) in my bedroom, and later, rotating a dozen or so in a nifty zippered case behind the passenger seat of my car. What great companions they were!
I thought about breaking this up into several parts, but decided against it, in that teenager popping cassette after cassette into the player on some warm day, with nothing better to do. I hope you enjoy…
Journey – Faithfully. For Mike. I have never forgotten.
Van Halen – Jump
The Church – No Explanation
The Damned – Alone Again Or
Motley Crue – Shout at the Devil I knew ALL the words. Yes, ma'am.
Killing Joke – Love like Blood
The Stone Roses – I Wanna Be Adored
The Smiths – How Soon is Now?
New Order – Thieves Like Us
Bronski Beat – Smalltown Boy
Madonna – Borderline
Whitney Houston – The Greatest Love of All Oh, Whitney! Voice of an angel. This is my absolute favorite song of hers. Get this playing, and you'll see me bawl like a wee babe, I gua-ran-tee it.
Janet Jackson – When I Think of You
Billy Idol – Eyes Without a Face
Billy Squier – In the Dark
The Cult – She Sells Sanctuary
Talk Talk – It's My Life
Depeche Mode – Just Can't Get Enough
Bauhaus – Bela Lugosi is Dead
INXS – Don't Change
The Cure – Close to Me
Echo and the Bunnymen – Lips Like Sugar
Beastie Boys – Hold it Now, Hit It
The Sugarcubes – Birthday
Psychic TV – Wicked
Psychedelic Furs – The Ghost in You
The Clash – The Magnificent Seven
Elvis Costello – Pump it Up
Simple Minds – Sanctify Yourself
The The – This is the Day
Eric B. and Rakim – I Ain't No Joke
Peter Gabriel – San Jacinto, the very best version from Peter Gabriel Plays Live, with, quite possibly the most fabulous make-up on an album cover, ever. Stunning. When Greg and I started dating, and I found this album among his collection, I took it as a sign from on high. We like the same music!!
Violent Femmes – Blister in the Sun
Frankie Goes to Hollywood – Two Tribes
U2 – Bad
Big Audio Dynamite – Rush
Pet Shop Boys – Love Comes Quickly
Information Society – What's on Your Mind
'Til Tuesday – Voices Carry
Public Image Limited – Rise
LL Cool J – I'm Bad
Stevie Nicks & Tom Petty – Stop Dragging My Heart Around
Nine inch Nails – Down in It
Steve Winwood – While You See a Chance
The English Beat – Save it for Later
Public Enemy – Don't Believe the Hype
Talking Heads – Girlfriend is Better
Robert Plant – In the Mood This was the first album I bought with my own money. Thirteen years old, I walked the twenty minutes from my house to Sweet's Records and Tapes at 80th & Wadsworth and proudly put my cash on the counter. It was a stellar moment of independence and freedom.
General Public – Tenderness
The GoGo's – Head Over Heels
Too Short – Life Is… Thank you, Bub.
After the Fire – Der Komissar
Golden Earring – Twilight Zone
The Kinks – Come Dancing
Prince – Baby, I'm a Star. Dance, dance, dance…
Genesis – Abacab
Big Country – In a Big Country
New Edition – Cool it Now Ronny, Bobby, Ricky, and Mike…
Modern English – I Melt With You
Loverboy – Turn Me Loose My concert going ways started with Loverboy. Thanks to my Uncle Chris for taking me to Big Mac all those years ago!
Eurythmics – Love is a Stranger
Eddie Murphy – Party All the Time. Uh-huh, you got that right.
Robert Palmer – You are in My System
Soul II Soul – Jazzie's Groove
Kate Bush – Reaching Out
The Pretenders – Middle of the Road