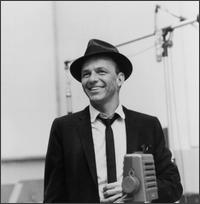 A funny fact about me: music makes me cry.  Every time I listen to Old Blue Eyes sing the song "New York, New York" the tears start 'a' flowin'.  You see, I'm kind of silly this way.  Maybe it was all of that music in the womb.  It hard-wired my brain to create profound connections between songs and my tear ducts.   Sometimes it is a memory that triggers the tears.  Other times, it happens on the first hearing and is far more mysterious: the voice?  the notes?  the instruments? Pianos cerainly seem to play a role.
These are the individual songs that will guarantee at least a welling in the eyes and why I believe it to be so.  There are other songs that I cannot recall or have yet to hear.  I also left out artists like Peter Gabriel, Chet Baker, Maria Callas, Ella Fitzgerald and Louis Armstrong (especially together), Beethoven, John Coltrane, and Mozart.  Ooh la la!  Listen to them in my company and watch me ride the rollercoaster. 
1. "New York, New York" Frank Sinatra.  I am speculating here, because sometimes it is hard for even me to tell, and I'm the one doing the crying.  I think it was Frank's gumption.  The guy knew what he wanted and went for it in the biggest way.  His Way!
2. The National Anthem.  Okay, this one is easy.  It may not be popular to say right now, but dammit, I am a patriot.  I have traveled to quite a few foreign countries, and while they were all lovely, none suited me so well as this one.  I am very proud to call the United States of America my home. 
3. "Fanfare for the Common Man"  Aaron Copland.  Good golly miss Molly!  The finest tribute to everyday kind of people.  I get misty just thinking about it.
4. "A Song for You"  Leon Russell.  The long-haired, bearded god of seventies song lyrics.  The opening piano just kills me.  "I love you in a place where there's no space or time.  I love you for my life – you are a friend of mine.  And when my life is over, remember when we were together.  We were alone and I was singing this song to you."
5. "Georgia"  Ray Charles or Willie Nelson.  Either singer brings on the flow, something about that long pause before singing Georgia a second time at the beginning.  Though I am not from Georgia, this song is about home.
6, 7. "Blue Sunday" and "Indian Summer"  The Doors.  More love songs.  The dreamy voice and music, the lovely lyrics, ahh…
8. "Suite Bergamesque"  Claude Debussy.  My view of the world comes into sharp focus when I listen to this.  Being alive feels absolutely glorious!
9. "The Song is Over"  The Who.  Parting is such sweet sorrow, yet so wonderful, too.
9. "After the Goldrush"  Neil Young.  For me, this is the most beautiful representation of the end of my childhood.  Everything I do has a consequence. 
10. "When I Think of You"  Janet Jackson.  I have the most joyous memory associated with this song.  I attended a high school football game with my friend Nancy (last name???).  She drove this ginormous bomber of a station wagon, and we sang this at the top of our voices on the way home.  Good times.
11. "Elderly Woman Behind a Counter in a Small Town"  Pearl Jam.  Eddie sings sweetly.  A reminder to stay in the present.
12. "Fire and Rain"  James Taylor.  A mourning song, goodbye to all that can never be again.
13. "My Cherie Amour"  Stevie Wonder.  His voice and the lyrics are lovely as a summer day.
14. "Blackbird"  The Beatles.  Moving from Denver to Portland, I became the bird that learned to fly and see, and, yes, I had been waiting all my life.