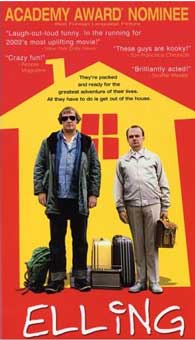 Elling and Kjell Bjarne are two mentally challenged fellows who, after years of living highly sheltered lives, must make it on their own in this rather poignant and hilarious Norwegian film.  The story follows the men through their introduction at an institution and their entrance into society.  With their tough love social worker threatening the possibility of being forever institutionalized if they fail at city life, the two must learn how to care for their shared apartment, shop for and prepare food, as well as engage in life beyond the confines of home.
The pair are a Norwegian odd couple, Elling is small, clean, and intellectual, and Kjell Bjarne is large (Elling calls him an orangutan), brutish, not keen on bathing, and, well, not so intellectual.  Despite this, they are a good match for each other, bringing balance, tenderness, and light into what are often, at least for them, some very frightening circumstances.  It is a wondrous tale of friendship and men coming of age, each learning, growing, their individual gifts blooming into treasure.
Oh goodness, does it have some marvelous dialogue, too.  Our favorite lines:
"Had I really made a friend without the help of the Norwegian government?"
"I'll just walk the streets…be a walking target for random violence."
"Are you spying on me?"  "No, but where are you going?"
Light hearted, fun (We haven't laughed like this in some time), touching, and with an appearance by a rather lovely 1958 Buick Century ("Why does everyone know what this car is called?!"), it is really hard to go wrong.