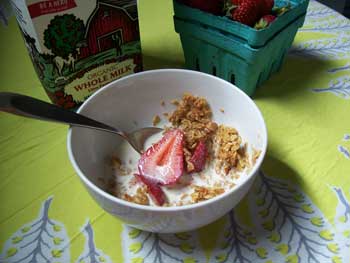 Housed in what once was an adult video store (buy four, get one free!), walking distance from our house, is a terrific little restaurant called Toast.  We first patronized out of sheer gratitude that they had made what was once a rather creepy eye sore into something truly neighborhood friendly.  However, we continue to go back out of sheer delight, for what it lacks in size (a mere eight tables and bar) it more than compensates for in charm and quality.  Not only is every dish I've ever had there delicious, but they source nearly all of their meat and produce from around the great state of Oregon, much from within a few miles of the restaurant, including a few small plots right in the neighborhood.
To top it off, the people who work there are they type you look for in a neighbor: kind, knowledgeable, friendly, and funny.  Take, for example, my favorite breakfast item, the Hippies Use Front Door Granola, no one without a good funny bone would give a clever tongue-in-cheek name like that, and good golly, is it ever yummy!   It's crunchy, not too sweet, with lots of nuts – perfect.  Topped with ice-cold milk (or yogurt) and seasonal fruit, it's a breakfast of champions.
Though this isn't their recipe, it is the one that makes me just as happy to prepare and eat.  Hopefully you'll like it, too.
Great Granola!
4 cups rolled oats (not quick cooking)
1 cup shredded unsweetened coconut
2/3 cup chopped almonds
1/3 cup wheat bran
1/4 cup flax seeds
1/2 cup neutral tasting oil (I like sunflower)
1/3 cup honey
1/4 cup sugar
1 1/2 teaspoons vanilla
1/2 teaspoon molasses
1/2 teaspoon salt
1/2 cup dried fruit (Optional – I like cherries and diced apricots)
Preheat the oven to 300 degrees.  Toss the oats, coconut, wheat bran, flax seeds, and almonds together in a large bowl.  Set aside.  Combine the oil, honey, sugar, molasses, vanilla, and salt together in a small bowl.  Stir well to combine.  Pour over the dry ingredients (don't add the fruit yet).  This is where it gets fun.  Take off any rings, watches, or bracelets, and thoroughly mix with your hands.  Spread the mixture on a large baking sheet.
When you're done, have a little fun, and lick your fingers.  Place the pan in the oven and bake for 40 minutes, stirring every 8-10 minutes.  Stir in the fruit during the last ten minutes or so.  Added any earlier, it will be really tough and a serious workout for your jaws!  Remove from oven, and allow to cool.  Store in an airtight container.  It will keep for two weeks, but I'll bet you finish it much sooner.
Enjoy!
Tags: Cooking and Baking