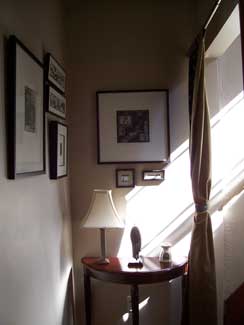 "Very little is needed to make a happy life."
                                          Marcus Aurelius Antoninus
I spent about ten minutes dashing about the house like a spaz, looking for the camera.  I was just so darned happy to see this beautiful light streaming down the stairs and had to capture it.
This is something I absolutely adore about our house – the light.  During daylight hours, no matter the time of year, it is always beautiful.  Sometimes it is bright, like this photo.  Other times, it is cool, or diffused by the myriad leaves on the surrounding trees.  Most importantly, it is always pleasant, always there.
It is such a treasure to have something so ordinary as light, so everyday, be so wonderfully pleasing.  Marcus Aurelius certainly had it right.  I am indeed living a happy life.
Comments are now closed.