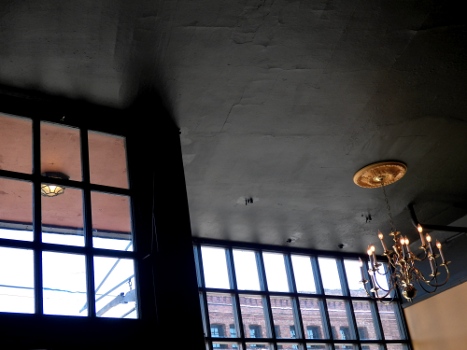 Remember me telling you that we bought tickets to Radiohead?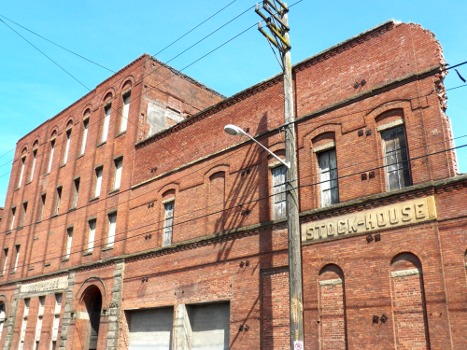 Well, goll-ee, if it didn't seem like ages ago and impossibly far in the future. But the date arrived, and we drove to Seattle for an overnight adventure to see one of the greatest bands of all time. You can disagree with me if you like, but I shall cover my ears while uttering, "La la la la…"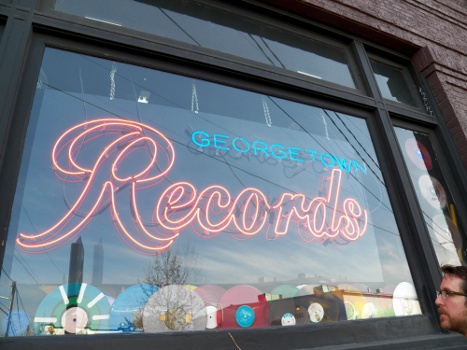 We're just north of Boeing Field here, in Georgetown, a cool little enclave that is home to the tasty Calamity Jane's restaurant, top photo, and across the street from the old stock house building. At said restaurant, you can get a side of Cheetos! Toss my every intention of eating somewhat healthy out the window during lunch because, damn it, I'm gonna have a delicious grilled ham and cheese with a side of these. I'm gonna smile and laugh and enjoy it, too.
Then I'm gonna walk it off, while taking scores of pictures, of course, because that is what I do.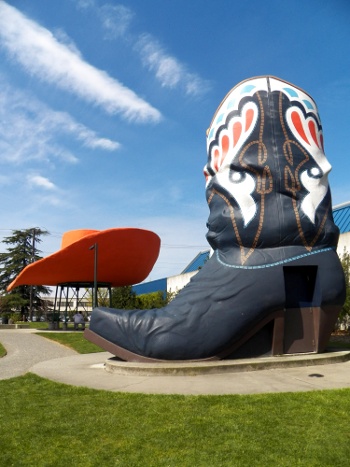 The hat and boot, which is actually part of a pair, though not a matched one, are ginormous!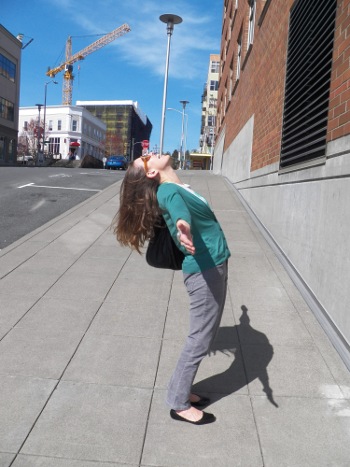 We're in Fremont now, enjoying sunny skies before the show. The huge vent was blowing ever so powerfully, and I took it all in, becoming a light pole swallower in the process. I'm sure stranger things have happened.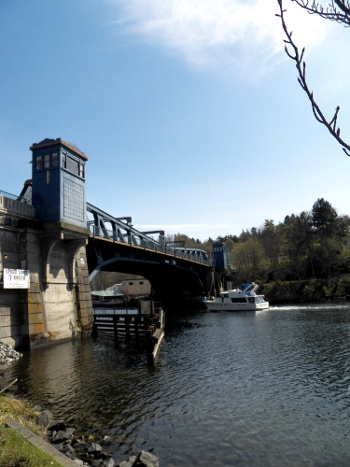 Man, do I love bridges. This is the Fremont.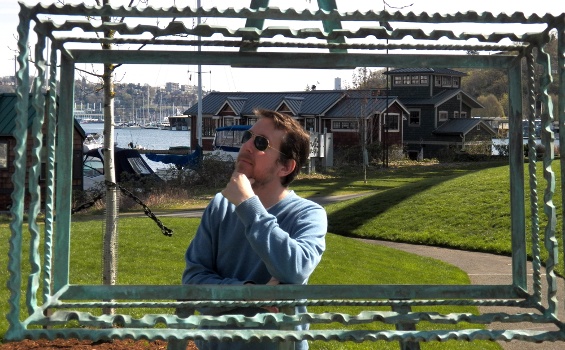 My favorite work of art. Wearing aviator glasses. Gulp.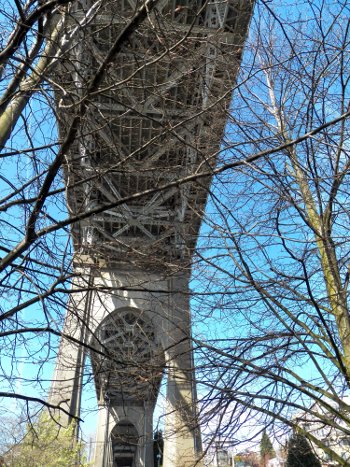 The George Washington/Aurora Bridge that is infamous for other reasons, as well. Call it what you like.
"The TV baby shot me."
Hello tall buildings!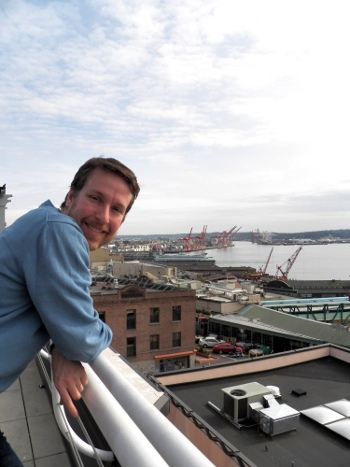 A very fine view.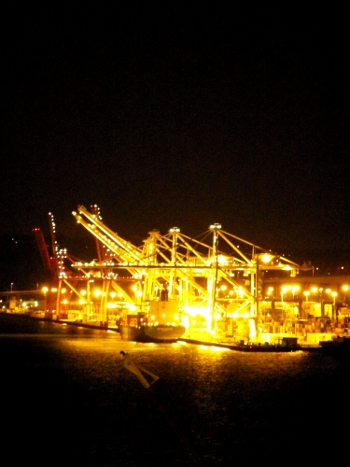 At the show, we sat next to another couple our age, the woman and I bonding over the weight of it without uttering the words. We saw it in each other's eyes.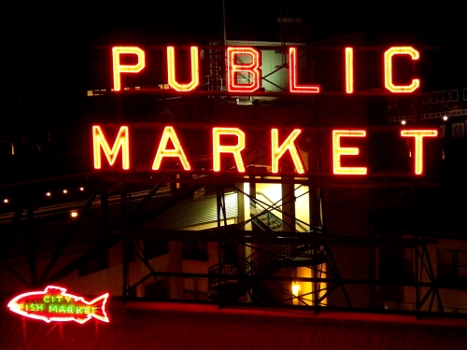 Afterward, and before my giddiness wore off, we sat on the hotel patio, enjoying the light and the cool evening air. Of course, we discussed everything Radiohead.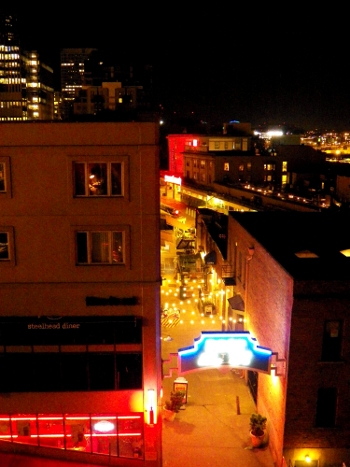 Like how the lights and general atmosphere were the best we'd ever seen, but the bass sometimes drowned everything out and made our bones rattle. How Thom and I are the same kind of dancers, and how his voice is just as good live. How tall Ed is. How we loved watching Jonny playing the lemon shaker and the piano with his guitar lying in his lap. He can play anything, even in pain. And how I cried when they played "How to Disappear Completely." I was just so damn happy to be there, with my best friend in the world, watching and listening.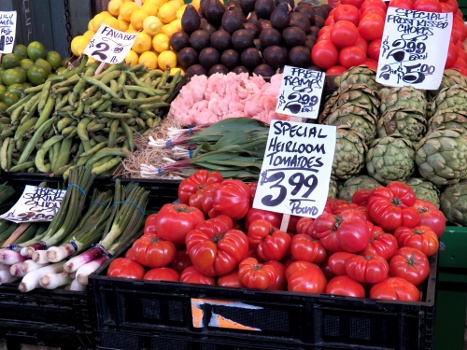 The next morning we went to the market.
Being a Tuesday, there was hardly anyone about, which was kind of nice.
Maren, we saw your hum-bao guy after we bought our piroshky. A smoked salmon, a beef, and the cardamom-cinnamon twist. Bread-y, dough-y heaven.
On our way home again. This could be an album cover.
"Glasses and Seatbelts."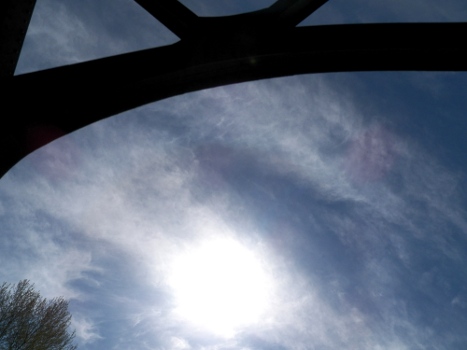 Sunshine AND bridges!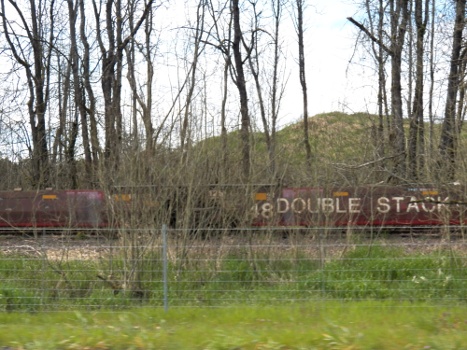 A link to more Radiohead goodness. You never know when you're gonna need a fix, unless you're me, of course. That would be daily.
Everything in its right place, indeed.
Tags: Seattle