Singing the theme song.  And no, she is not being beamed away in the process – just an ill placed light pole.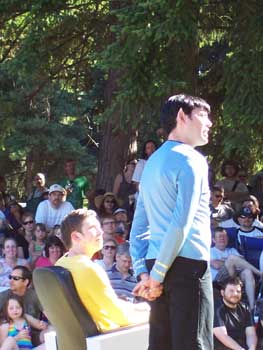 Two great minds that go great together (like Reese's!).
Spock and Uhura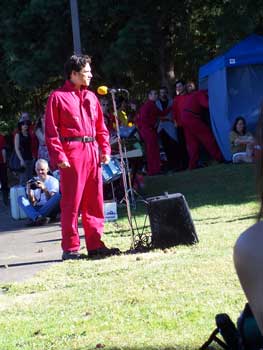 Khan!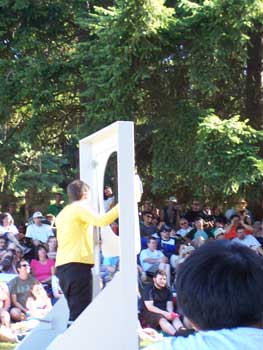 Those compression chambers get me every time.
A preview of next season…
Awesome Portlanders!
Dang it, Portland, you are awesome, really.  Filled with fine sights, lovely weather, a love for the environment, and that sometimes zany creative spirit, I can't think of a finer place for this red roofed writer to call home.
Take, for instance, this past weekend.  The hubster and I had a fine outing to North Portland (NoPo if you are so inclined – I am not) for a play-like production of an episode of Star Trek, "Space Seed" to be precise.  First, I just love that a group of people would think to do this  –  a live production of an iconic television show, why not?  Second, to be supported by such masses of people, Trekkies and non-Trekkies alike (peace and harmony!), that there was scarcely a place to sit within earshot after we arrived (90 minutes before showtime, I might add).  Seriously, how cool is that?!
Anyhoo, it was a grand time, and though the set was rather simple, it was better than alright: the singing of the theme song, the sound effects, the witty repartee, and, of course, Captain Kirk battling with Khan(!).   Called Trek in the Park and put on by Atomic Arts, it is word for word, blow by blow, and laugh for laugh accurate.   I never thought it could be so fun!
We followed our adventure with a stop at one of our world famous food cart restaurants (Portland is ranked number ONE in the world for street food according to Budget Travel).  A place I'd been wanting to try for ages, it didn't disappoint.  A perfect end to a terrific day, but I won't spoil it with too many words.   I'll let the pictures do the majority of the talking…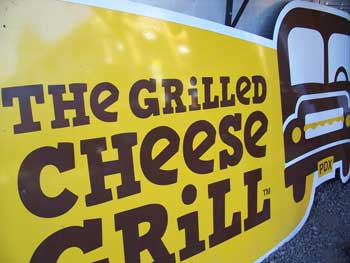 Grilled Cheese Gromit!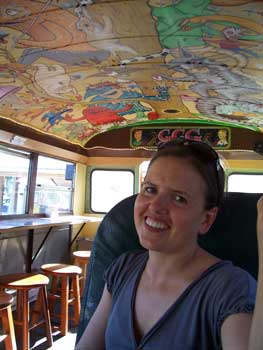 Get on the bus…
Sip some bubbly…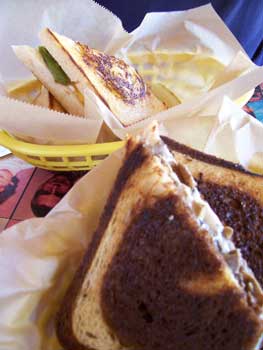 Eat a sammy – The Jalapeno Popper and The Jersey.
Be Happy!
Comments are now closed.