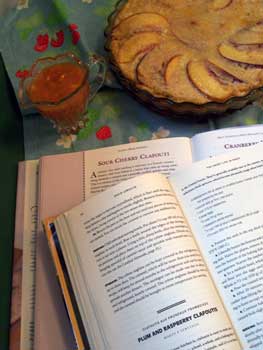 Happy Saturday, everyone!
We bought some rather fabulous looking local peaches at the market this week – big perfectly shaped, and oh, the scent, heavenly.  The problem?  Mealy as all get out.  I took one bite and felt such a wave of sadness that something so pretty and sweet smelling could be so icky.  However, with a bit of baking experience under my belt, I knew there was potential for them.  Here it is – clafoutis.  Creamy and custardy, like a soft pancake, though with a slight crunch of a crust on top, and a snap to make, too.  I forget how easy they are, and much prettier than a stack of pancakes, too.
I took the best of a recipe from Richard Sax and another from David Lebovitz to suit my quite particular tastes and it was perfectly delicious.  You can use peaches, apricots, cherries, berries, plums, or a combination.  It's really hard to go wrong.  Also, if you can, get up before the hubster (or the kids) and make it for breakfast, like I did.  The sleepy smile plastered on his face and delight at the first bite is well worth the time and effort.
I also gilded the lily and made a peach sauce with the remaining fruit.  I used the recipe included with my pancakes.  Actually, I very nearly called this post, "How About Orange?" in homage to a rather snazzy blog and the fact that we had peach clafoutis, peach sauce, and charentais melon for breakfast – a rather monochromatic but happy coincidence!
Clafoutis
2 tablespoons unsalted butter, melted
1 pound firm, ripe plums, peaches, apricots, sliced OR 2 cups berries or cherries (pitted) OR a combination
3 eggs
1/2 cup flour (I like using 1/4 cup whole wheat and 1/4 cup all purpose)
1 teaspoon vanilla
1 teaspoon brandy (optional, but very good, especially with peaches)
1/4 cup sugar, plus 2 tablespoons for sprinkling
1 1/4 cups milk (2% or whole milk give the best flavor and texture)
Position your baking rack in the top third of the oven and preheat to 375.  Liberally butter the bottom and sides of an 8 or 9 inch gratin dish or pie pan.  Arrange the fruit in a pretty pattern.
In a medium bowl, whisk the eggs until smooth.  Whisk in the butter and flour until smooth, add vanilla and brandy (if using).  Whisk in the 1/4 cup sugar, then the milk.
Pour the custard mixture over the fruit (be gentle about it so you don't disrupt the prettiness you've made).  Bake for 30 minutes.
Gently slide out the rack the clafoutis is resting on so you don't disturb the crust that is forming.  Sprinkle with the remaining 2 tablespoons of sugar, and continue baking for about 30 more minutes.  It will be slightly firm in the center and the top will be a gorgeous golden brown.  Serve right away or warm.  It will deflate a bit, so snap your photos quickly (hopefully you'll have better light than I did today).
Enjoy!
Tags: Cooking and Baking
Comments are now closed.