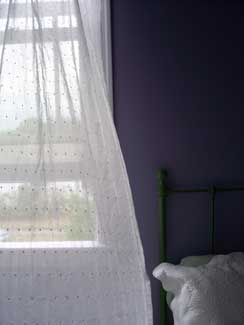 Hi there!  I'm giving you a little preview of our updated guest bedroom.  I need to make some watercolors for a couple of empty frames before it is ready for viewing, so, in the meantime, I'm showing you two of my favorite features.  The first is the billowing curtain.  I find few sights in a home more pleasing.  I can't really say why.  I guess there is something peaceful about it, carefree.  The other photo is the top corner of the door, illustrating the paint colors.  Both pretty and soothing, I love them.
This was the first room we painted after we bought the house ten years ago, and though I didn't know it at the time, we were quite lucky with the paint selection.  Despite Gregory's initial raising of eyebrows, "A purple room?"  It was just right.  There was no dread as we applied the first roll of color on the wall, as was the case in the living room, bathroom, and hallway.  Oy vay, what a hassle to spend all of that time poring over chip after chip, getting excited at how lovely they will look to being in utter shock that it just isn't right.  How can that be?  It's too mustard, too nursery room, too Amityville Horror!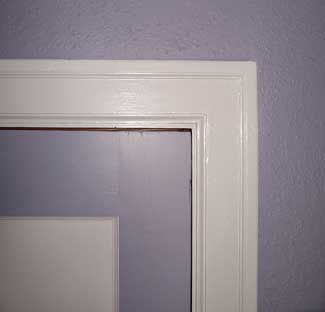 Since we had to paint the newly installed window, we decided we might as well do the whole room again.  After all, it had been ten years, and it looked it – a bit dirty where the cats jumped from the window and quite faded, save where there had previously been pictures (though that did look kind of neat – like something out of an old mansion).  Since I really did like the color, I saw no reason to change it, with the exception of buying an eggshell instead of a matte finish.
So there you have it – a little peek.  I promise to show you the rest very soon.
Comments are now closed.