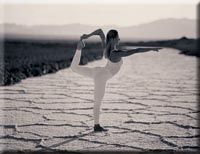 I first began practicing yoga about eight years ago.  I dabbled with different videos and "live"classes, but was never very serious, at least, not until I discovered Shiva Rea.
My introduction to Shiva Rea was with the Yoga Shakti video on Amazon about two years ago.  I was immediately intrigued by the possibility of creating my own practice by selecting from the different series of vinyasas on the yoga matrix.  Since then, I have also added the Fluid Power Vinyasa Flow and the Creative Core Abs to my collection.  Each DVD gives me myriad possibilities for my practice, including degree of difficulty and length.
However, the best part about the videos is Shiva herself: strong, graceful, and powerful.  She radiates peace, love, and joy.  I find myself inspired by her, learning to approach yoga in a completely different way by connecting my practice and my life.  Before Shiva, I was "doing" yoga, but here, I feel myself evolving and actually "being" each of the asanas, all while growing stronger, too.  It is really quite wonderful.
It is funny, too, I created the title for this entry before deciding that I wanted to include a picture of Shiva, so when I did my Google search, I found her website and it is called Shiva Rea: Yoga as Conscious Evolution.  Kind of an interesting coincidence isn't it?  Her presence in my life extends far beyond my practice.
Who knows?  Maybe one day, we'll even meet.  Until then, thank you Shiva.  Infinite blessings upon your path…